NFL's Goodell in 'Hot Water' Over Handling of Ray Rice
Scott Soshnick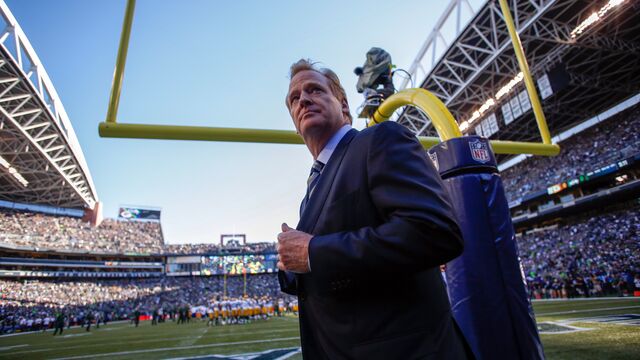 Roger Goodell's eight-year run as commissioner of the National Football League is in jeopardy over his mishandling of the Ray Rice domestic violence affair, according to management and public relations experts.
"He's in hot water, baby," said J. Keith Murnighan, the Harold H. Hines Jr. Distinguished Professor of Risk Management at Northwestern University's Kellogg School of Management, declining to say whether the commissioner might lose his job. "He has damaged the brand. Owners are going to be wildly uncomfortable."
Rice was suspended two games by the league in July following an altercation with his fiancee at an Atlantic City, New Jersey, casino in February. Security video showed the Baltimore Ravens' leading rusher the past five seasons dragging her, unconscious, out of an elevator. Goodell's two-game penalty was widely condemned as far too lenient as violators of the league's marijuana policy had received full-season bans.
Goodell, who acknowledged in an interview with CBS News last night that "we didn't get it right," has since implemented a stricter penalty for domestic violence that calls for a six-game ban for a first offense and a possible lifetime suspension for a repeat offender.
The website TMZ two days ago showed video from inside the elevator where 27-year-old Rice, who is listed at 5-foot-8 and 206 pounds in the team's media guide, knocked out his now-wife with a single punch.
Contract Terminated
The Ravens in response to the video cut the former Rutgers University running back, who then was suspended indefinitely by Goodell.
While advocate groups said the league should ban anyone guilty of domestic violence for life for a first offense, Goodell told CBS that Rice may get to play again some day.
"But he would have to make sure that we are fully confident that he is addressing this issue," Goodell said. "Clearly he's paid a price for the actions he's already taken."
In addition to being cut by the Ravens, Rice yesterday had his endorsement contract with Nike Inc. terminated. The team no longer owes him $3.29 million in non-guaranteed salary for this year, according to the Baltimore Sun, and won't have to pay the running back's $3 million non-guaranteed salaries for 2015 and 2016.
Rice's wife wrote a post on her Instagram account yesterday morning defending her husband and blaming the media for pushing the story to "gain ratings."
Difficult Dilemma
"It's a complicated mess," Murnighan said, noting that Goodell's tenure as commissioner, which began in 2006, has been successful when measured broadly. "Here you have a sport that is brutal and violent, but when it goes outside the lines you have a problem on your hands. This is a long-term, incredibly sensitive dilemma they have to deal with and they have not dealt with it well."
At issue, says David Johnson, chief executive officer of Atlanta-based public relations firm Strategic Vision LLC, is whether Goodell -- the father of two daughters -- and NFL executives knew about what happened inside the elevator and when they knew it. And if they didn't know, why not.
CBS Interview
Goodell told CBS that no one in the league saw the footage from inside the elevator until Sept. 8.
"We had not seen any videotape of what occurred in the elevator," Goodell said. "We assumed that there was a video. We asked for a video. We asked for anything that's pertinent. But we were never granted that opportunity."
The commissioner also told CBS that he didn't feel that the incident has put his job in jeopardy. "Every day I have to earn my stripes," he said.
Like all major U.S. sports leagues, the NFL has an in-house security department. It's led by Jeff Miller, a former commissioner of the Pennsylvania State Police who left that job in 2008 to join the league. Miller isn't available to comment, said league spokesman Brian McCarthy, who added in an e-mail last night that the league didn't ask the Revel Casino Hotel, where the incident took place, for the tape.
Revel provided the full video to local and state police, the Atlantic County Prosecutor's Office, the state Division of Gaming Enforcement and Rice's attorney, said Lisa Johnson, a spokeswoman for the hotel.
At the time of Rice's initial two-game suspension, the NFL said it had reviewed all of the evidence, including video. McCarthy said a request was made to law enforcement for any and all information, including video from inside the elevator.
"If it were available, it should have been used to make a decision," said Robert Gadson, director of security for the NBA Players Association, declining to comment on whether the NFL should have been able to obtain a copy. "You gather as much evidence as you can to establish the truth."
Police Cooperation
Sports leagues routinely cooperate with law enforcement. The NFL, for example, worked in conjunction with officials from the U.S. Department of Homeland Security, New Jersey State Police, New York City Police Department and the Federal Bureau of Investigation to secure the 2014 Super Bowl played in East Rutherford, New Jersey.
The NFL is the most-watched U.S. sports league, generating almost $10 billion in annual revenue. Goodell was paid $35 million in salary last year.
San Francisco 49ers defensive lineman Ray McDonald played in the team's season opener Sept. 7 after being charged with felony domestic violence a week earlier. He said "the truth will come out," and team officials said he was allowed to play pending the police investigation. He was the first player charged with domestic violence after Goodell stiffened the policy.
Much Expected
"One case is too many," Goodell told CBS. "What we have to do is say, 'If we have one case, that's something we have to address,' People expect a lot from the NFL. We accept that. We embrace that."
Goodell, 55, the son of a former U.S. Senator, joined the NFL in 1982 as an intern. He spent the following year working for the New York Jets in public relations before returning to the league office.
"It's beyond Goodell doesn't get domestic violence," David Johnson said in a telephone interview. "He was the Keystone Cop. The image is -- it's either incompetence on his part or negligence covering it up."
Former NFL Players Association President Domonique Foxworth said Goodell's bailiwick is discipline.
"Roger's big claim to fame is this disciplinarian role," said Foxworth, who is in his final year at Harvard Business School. "If that's being attacked, I'm not sure what Roger's support with ownership would cling to."
NFL Changes
Murnighan, the Northwestern professor, said he expects the Rice fiasco will lead to policy changes at the league. David Johnson, meantime, said he would be surprised if owners aren't pressing Goodell to hold a press conference at which he would announce an independent investigation into the Rice matter. McCarthy, the league spokesman, didn't respond to an e-mail asking whether an independent investigation is being considered.
"I would not be stunned if some of the owners, and I don't know if it has reached this temperature right now, but if I was their PR person, I would be thinking about a graceful way of getting Roger out of this position down the road," he said. "If there is any kind of smoking gun, any evidence that he knew, or higher-ups knew, they have to terminate him right away."
Before it's here, it's on the Bloomberg Terminal.
LEARN MORE