Goodell Says Ray Rice Could Return Even After 'Sickening' Video
Erik Matuszewski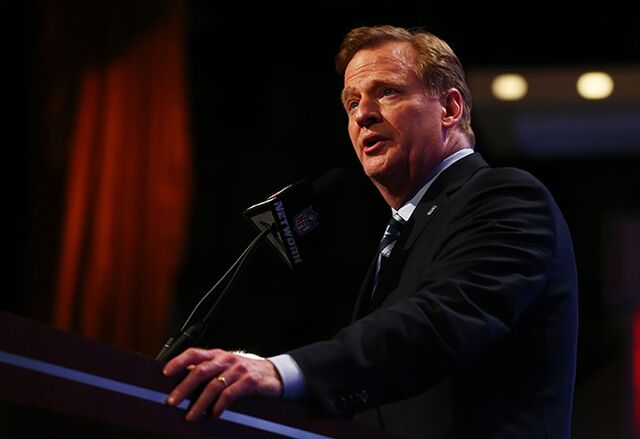 Roger Goodell said Ray Rice may get a chance to return to the National Football League, even though the commissioner said video released two days ago of the former Baltimore Ravens running back knocking out his then fiancee with a single punch was "sickening."
Rice, 27, two days ago was cut by the Ravens and indefinitely suspended by the NFL after the website TMZ released a video from February of the Pro Bowl running back striking Janay Rice, who is now his wife, in the elevator of a casino in Atlantic City, New Jersey.
An earlier video released by TMZ had shown Rice, the Ravens' leading rusher the past five years, dragging his unconscious wife out of the elevator. Goodell said yesterday in an interview With CBS News that he hadn't seen the second video that showed Rice throwing a punch when he handed down an initial two-game suspension in July.
"What we saw in the first videotape was troubling to us in and of itself," Goodell said last night. "But what we saw yesterday was extremely clear, it was extremely graphic and it was sickening. That's why we took the action we took."
With his release, Rice won't receive his $3.29 million in non-guaranteed salary for this year and the Ravens won't have to pay him $3 million in both 2015 and 2016.
Nike Inc. terminated its endorsement contract with Rice yesterday, while the Ravens said they'll offer an exchange for Rice jerseys, similar to what the New England Patriots did after tight end Aaron Hernandez was charged with murder.
Rice Removed
Rutgers University, where Rice played collegiately, will remove his image from a video montage shown between quarters at their home stadium and later this week Rice will be taken out of the EA Sports video game Madden NFL 15.
Janay Rice defended her husband yesterday, accusing the media of pushing the story.
"To make us relive a moment in our lives that we regret every day is a horrible thing," she wrote on Instagram. "To take something away from the man I love that he has worked his ass off for all his life just to gain ratings is horrific."
While Rice is banned indefinitely from the NFL, Goodell said last night he hasn't ruled out the chance for a return.
"He would have to make sure that we are fully confident that he is addressing this issue," Goodell said. "Clearly he's paid a price for the actions he's already taken."
Goodell, who has faced criticism for his handling of the domestic violence affair, said nobody in the NFL, to his knowledge, saw the video with what occurred in the elevator prior to its release on TMZ two days ago. Goodell said the league assumed there was security footage and asked for it, but "were never granted that opportunity."
NFL Request
The league only asked law-enforcement agencies for surveillance footage and didn't request it from the now-shuttered Revel Casino Hotel, where the incident took place, NFL spokesman Brian McCarthy said in an e-mail yesterday.
Revel provided the full video to local police, the Atlantic County Prosecutor's Office, the state Division of Gaming Enforcement and Rice's attorney, said Lisa Johnson, a spokeswoman for the hotel. Ravens spokesman Chad Steele said yesterday team officials asked Rice's attorney for the video, but were told that while he'd seen it, he didn't have a copy.
When the video from inside the elevator was released, Ravens owner Steve Bisciotti said he immediately called a meeting with team executives and coach John Harbaugh.
"The meeting was relatively short. The decision to let Ray Rice go was unanimous," Bisciotti said last night in a letter to Ravens fans. "Seeing that video changed everything. We should have seen it earlier. We should have pursued our own investigation more vigorously. We didn't and we were wrong."
League's Mistakes
Goodell said the league has been forthcoming about its mistakes when asked in the CBS interview whether the NFL had dropped the ball in its investigation or was willfully ignorant about what was on the second tape.
"We certainly didn't know what was on the tape," said Goodell, whose original two-game ban was widely regarded as too lenient. "But we have been very open and honest, and I have also, from two weeks ago when I acknowledged we didn't get this right. That's my responsibility and I'm accountable for that."
Goodell last month implemented a stricter penalty for domestic violence that calls for a six-game ban for a first offense and a possible lifetime suspension for a repeat offender. Those changes haven't stopped the criticism.
David Johnson, chief executive officer of Atlanta-based public relations firm Strategic Vision LLC, said a crucial issue in the Rice incident is whether Goodell and NFL executives knew about what happened inside the elevator and when they knew it. And if they didn't know, why not.
"It's beyond Goodell doesn't get domestic violence," Johnson said in a telephone interview. "He was the Keystone Cop. The image is -- it's either incompetence on his part or negligence covering it up."
Before it's here, it's on the Bloomberg Terminal.
LEARN MORE