McDonald's Is Losing the Happy Meal Crowd
By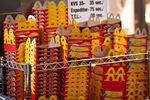 McDonald's has already admitted it has a problem with millennials, who want food that is healthier and fresher than much of what the chain offers. Now it looks as if McDonald's has a problem with kids, too.
McDonald's has lost its first-place position as the chain with the most "kid appeal," reported Crain's Chicago Business. The new favorite, according to Sandelman & Associates, a restaurant research firm, is Chick-fil-A. It's one of several fast-casual chains that are appealing because they serve "real" food. Chipotle is another.
Numbers back up the sentiment. While all fast-food chains have become less popular with families, McDonald's has fared worst. In 2011, families with a child aged 12 or under accounted for 18.6 percent of McDonald's customers, according to research firm Technomic. By mid-2014, such families accounted for 14.6 percent of McDonald's visitors. The company's U.S. sales at established stores have been falling for the past four months. In August they dropped 2.8 percent, McDonald's said on Tuesday. The company also reported that global same-store sales fell 3.7 percent, the worst decline in a decade.
The public relations campaign against McDonald's has been underway for at least a decade. Kids in some places learn about nutrition in school, and some already have pretty sophisticated tastes. Or maybe the Happy Meal toys aren't as enticing. The company's U.S. marketing director told Crain's that McDonald's "takes our responsibility to children and family very seriously, and we offer food choices that fit within a balanced diet."
There's a further way to know McDonald's is taking the problem seriously. It has reorganized its formidable marketing efforts to focus on families, millennials, and adults rather than on categories of food.
Before it's here, it's on the Bloomberg Terminal.
LEARN MORE