pursuits
Manchester United Blames Fired Manager for $80 Million in Losses
By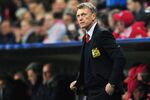 Manchester United plans to pin $80 million in losses on former manager David Moyes, according to a report in the Telegraph. The English Premier League soccer club and publicly traded company is scheduled to hold a conference call with investors on Wednesday, during which club Vice Chairman Ed Woodward is expected to lay last year's disappointing season at Moyes's feet.
Here's the first problem with this: Most of the lost money never belonged to United in the first place. The biggest piece of the supposed $80 million bill comes from the club's failure to qualify for Champions League play for the first time in 19 seasons. For the elite European clubs who participate, the competition is worth roughly $50 million in revenue. United may have considered that money its own—and therefore, sees the absence as a loss—but that's patently wrong. Just ask Manchester City, Liverpool, Chelsea, and Arsenal, the English clubs that did qualify. An additional chunk of the ascribed cost comes from a $14 million drop in Premier League prizes from the previous season, to which one must say: ditto.
What's more, Moyes, who was fired in April, is not the only person to blame. He did fail at Manchester United, but he was put in position to do so by same management that, having cast him into the desert, is now loading him with sins. This is a common enough practice for companies seeking atonement. (See Hewlett-Packard after the Leo Apotheker disaster.) It seems gratuitous in the case of Manchester United, which—thanks to big new sponsorship deals with Chevrolet (here) and Adidas(here) is still making plenty of money. According to Deloitte's annual Football Money League, United is the fourth-wealthiest club in Europe.
United is also still struggling on the pitch under new manager Louis van Gaal. There is no word yet from the club on how much his failings have cost. If he turns it around, van Gaal shouldn't expect an $80 million bonus.
Before it's here, it's on the Bloomberg Terminal.
LEARN MORE