Shekel Still 'Too Strong' for Israeli Finance Minister Lapid
Alisa Odenheimer and Laurie Hays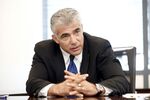 A weaker shekel would benefit Israel's economy, Finance Minister Yair Lapid said.
The currency is "too strong still" even after declining more than 5 percent since late July, Lapid, 50, said in an interview in his Tel Aviv office yesterday. "We think a shekel around 3.7-3.8 would be good for industry, good for Israeli high tech, good for the economy, good for growth."
The shekel has gained about 9 percent against the dollar in the past two years, eating into exports that account for about a third of Israel's $270 billion economy. It depreciated 0.5 percent yesterday after Lapid's comments, and gained 0.1 percent today, trading at 3.6220 at 11:12 a.m.
While Lapid says the currency's surge is an indicator of a robust economy, exporters have called for government action to weaken it. The Manufacturers Association of Israel urged the central bank to cut borrowing costs to zero and buy enough dollars to defend a 3.8-to-the-dollar shekel floor.
Two surprise Bank of Israel rate cuts since July 28 have stemmed the shekel's advance. Central bank dollar purchases and the strengthening of the U.S. currency globally have also weakened it.
"The industrialists are happy; they are not happy enough yet, but they are happier," Lapid said, adding that he hoped the shekel will continue to decline "a bit."
"If you have a strong economy, you have a strong currency," he said. "But we thought the shekel was artificially too strong."
Flug Clash
Lapid forecast the economy will grow about 3 percent next year, while saying he hoped it could expand as much as 4 percent. He also predicted the 2015 budget deficit will surpass 3 percent, above the government's 2.5 percent ceiling.
The extra spending is needed in part to finance one-time defense needs, such as investment in technology to detect tunnels dug by militants to stage attacks, he said.
"I'm not happy about it, but I'm not really worried about it because everything which is a one-timer then you are less worried," said Lapid. "I will have to explain this of course to the rating companies."
Lapid last week clashed publicly with Bank of Israel Governor Karnit Flug over budget plans, saying that he'd prefer to increase the deficit rather than raise taxes or pull back on government services. Flug, on the other hand, warned that allowing the deficit to widen too far would expose the economy to "significant risk."
Friday Trading
Israeli growth slowed in the second quarter, and the 50-day military conflict with Palestinian militants in the Gaza Strip in July and August is expected to further curb expansion. The Bank of Israel said in July that similar conflicts have cut growth by about a half a percentage point.
Lapid, a former TV talk-show host, became finance minister last year after his newly founded Yesh Atid party won 19 seats in its first election, making it the second-largest faction in the Knesset. Lapid's campaign focused on domestic issues, especially protecting the interests of the secular middle class.
Lapid said yesterday that he favors a Tel Aviv Stock Exchange proposal to move its trading days to Monday-to-Friday, to align with other markets and attract more foreign investors. The market currently trades Sunday through Thursday.
The exchange has said the proposal would require the approval of its board and the Israel Securities Authority. Lapid said it didn't fall within the Finance Ministry's jurisdiction.
"I think it is a very good idea," he said.
Before it's here, it's on the Bloomberg Terminal.
LEARN MORE