Ferrari's Old Guard Fights Back Against Fiat's Marchionne
By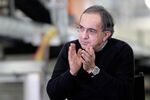 In his decade at the helm of Fiat, Sergio Marchionne usually gets what he wants, including the $4.35 billion takeover of Chrysler that was sealed earlier this year. But he's facing a mini-rebellion in Italy over the future of Ferrari, the iconic sports car maker owned by Fiat.
Luca Cordero di Montezemolo, Ferrari's longtime chief, is heading for the exit after clashing with Marchionne over strategy, according to a report in Bloomberg News that cites comments from people familiar with the situation. Di Montezemelo may leave later this year, although the timing remains unclear and there has been no agreement on a severance package. Fiat and Ferrari representatives declined to comment.
Marchionne wants to the put the Ferrari brand to work as he pushes to expand Fiat Chrysler's lineup of high-end cars. Di Montezemelo, who has run Ferrari for 23 years and began his career as an assistant to founder Enzo Ferrari, wants to maintain the company as an autonomous unit within Fiat and safeguard its exclusivity by limiting sales to about 7,000 cars a year. The newspaper Corriere della Sera said Marchionne is likely to take over Ferrari when di Montezemelo leaves.
The dispute burst into view at Italy's Formula 1 Grand Prix over the weekend, when the 67-year-old di Montezemelo sought to quell rumors he might leave Ferrari, saying he had offered to remain for an additional three years. A clearly irritated Marchionne responded: "Nobody is indispensable." The Fiat chief executive also described the performance of Ferrari's Formula 1 team, which hasn't had a winning season since 2008, as "unacceptable."
Marchionne, who wants to develop new markets for Ferrari, said earlier this year that he could envision boosting annual sales to 10,000. That number is minuscule compared to the 4.4 million cars sold by Fiat Chrysler last year. But the profit margins are enormous: Ferrari accounted for 12 percent of Fiat's operating profit. And with sticker prices ranging from about $200,000 to more than $400,000, Ferrari wants buyers to feel they are members of an exclusive club—owners of "a desirable object par excellence," as di Montezemelo has put it. His fear is that Fiat Chrysler will over-expose the brand.
Even di Montezemelo agrees that Marchionne will get his way. The longtime Ferrari chief has told friends, "It's the end of an era," according to Corriere della Serra, and that "Ferrari is now American."
Di Montezemelo is finding support among some fellow Italians, who say Marchionne has reneged on promises to protect Italian jobs and give a boost to the country's economy. Italian news media outlets this week quoted Diego Della Valle, chairman of luxury leather-goods maker Tod's, as saying Marchionne's comments about the Ferrari chief were "shameful and offensive." He added: "If you are proud to be Italian, you should pay your taxes in Italy, where Italian workers of Fiat pay them."
Before it's here, it's on the Bloomberg Terminal.
LEARN MORE