Ex-NHL Player Boogaard's Death Linked to U.S. Drug Bust
Patricia Hurtado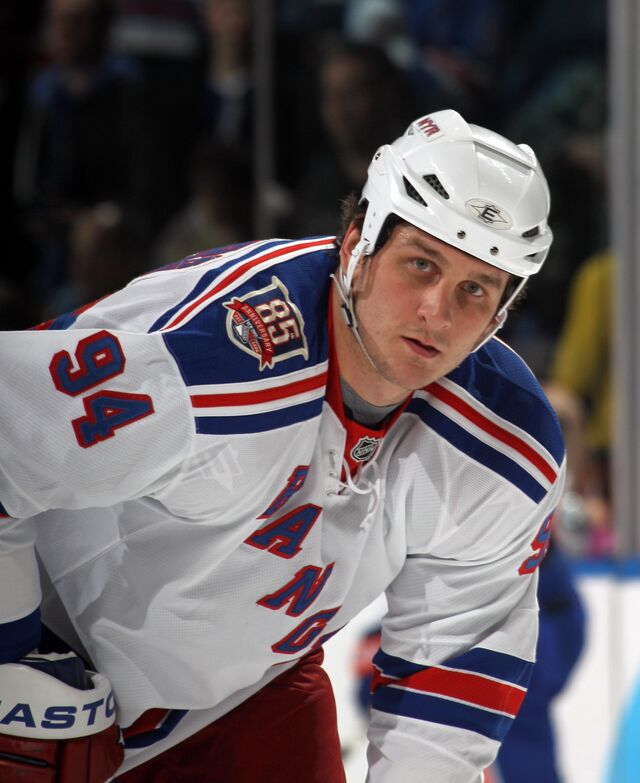 Former National Hockey League player Derek Boogaard's death was linked to two men, including an assistant to a minor league hockey team physician, charged by the U.S. with a scheme to illegally possess and distribute oxycodone.
Oscar Johnson, 59, a doctor's aide from Utah, wrote "medically unnecessary" Percocet prescriptions for Jordan Hart, 31, a former minor league hockey player, on a monthly basis for about two years, even though Johnson never conducted an examination of Hart for any injuries or illnesses, federal prosecutors said. Hart allegedly sold some of the oxycodone he obtained from Johnson's prescriptions to Boogaard.
Boogaard's death at age 28 was followed by the suicide of Rick Rypien, 27, of the Winnipeg Jets in August 2011 and the death two weeks later of retired Nashville Predators player Wade Belak, 35, who was found hanged in a Toronto hotel room with no foul play suspected.
The U.S. said yesterday that Boogaard died of an overdose of oxycodone and alcohol in Minneapolis in May 2011, after leaving a California rehabilitation facility where he was sent to deal with his addiction to painkillers. After checking out of the facility, he wrote Hart a $4,000 check to buy prescription drugs and later died after ingesting some of those drugs he purchased from Hart, the government said.
Percocet Prescriptions
"For more than two years, Oscar Johnson casually provided Percocet prescriptions to a former minor league hockey player without once treating or examining that player," Manhattan U.S. Attorney Preet Bharara's office said in a statement. "The minor league player Jordan Hart then filled those prescriptions and sold the corresponding drugs to Derek Boogaard, an NHL player, feeding Boogaard's growing, debilitating addiction."
Gary Meagher, a spokesman for the NHL, didn't immediately respond to a voice-mail message seeking comment on the case.
Johnson, of Salt Lake City, Utah, is charged with 26 counts of distributing and possession with intent to distribute oxycodone, with each count carrying a maximum 20-year prison term. Hart, of Huntington, New York, is charged with one count of conspiracy to possess and distribute the drug.
Bail Agreement
Hart was arrested at at his home at 10:20 a.m. yesterday. He pleaded not guilty in Manhattan federal court. U.S. Magistrate Judge Michael Dolinger approved a bail agreement reached between prosecutors and Hart's lawyer, ordering him released on $500,000 bond to be secured by his father's $1 million Huntington home and by three cosigners. His wife and mother were in court.
"By alleging that drugs were distributed to an individual whose death was caused by alcohol and drugs was to me irrelevant, prejudicial, inappropriate," Hart's lawyer, Robert LaRusso, said after the arraignment.
Johnson was also arrested yesterday and was scheduled to appear in federal court in Salt Lake City.
Boogaard played 277 NHL games from 2005 to 2011, spending five seasons with the Minnesota Wild and one with the New York Rangers. During that time, the 6-foot-7-inch, 265-pound player scored three goals, added 13 assists and compiled 589 penalty minutes.
Boogaard, like many players his size who rely more on physical play than skill, often fought with players on opposing teams on a nightly basis. He missed the final 52 games of the season after sustaining a concussion and shoulder injury.
William T. Gibbs, who filed a wrongful-death lawsuit against the NHL on behalf of Boogaard's estate last year, didn't immediately respond to a phone call seeking comment.
Traumatic Encephalopathy
After his death, Boogaard was found to have been suffering from chronic traumatic encephalopathy, a form of brain damage caused by repeated blows to his head during his hockey career, according to the civil complaint pending in federal court in Chicago.
That trauma allegedly damaged areas of his brain controlling judgment, inhibition, mood, behavior and impulse control, the estate lawyers alleged.
During the 2008-2009 season, NHL medical personnel allegedly prescribed 1,021 pills for him. At the end of that season, he underwent two operations in 16 days, after which he was prescribed 150 pills of oxycodone by league doctors, the estate lawyers claimed.
Boogaard ultimately became addicted to the opioids and sleeping pills and was twice admitted to substance-abuse treatment, according to the complaint.
Meagher declined to comment on the lawsuit when it was filed.
The criminal case is U.S. v. Hart and Johnson, 14-cr-00592, U.S. District Court, Southern District of New York (Manhattan). The civil case is Nelson, as personal representative of the Estate of Boogaard v. National Hockey League, 13-L-3945, Cook County, Illinois Circuit Court, Law Division (Chicago).
Before it's here, it's on the Bloomberg Terminal.
LEARN MORE