Cartagena's Locals Brace for High-End Hotel Invasion
by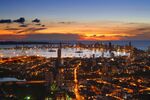 Unshaven, smiling and reed-like in the Caribbean breeze, Andrés Montaño takes his newfound Colombian wealth in stride.

"At the beginning everyone told me I was crazy for buying here. There was so much prostitution and drugs, it was very dangerous," says the 32-year-old who, together with four partners, opened a backpacker's hostel in Getsemaní, Cartagena for $1 million in 2009. It is now worth $5 million. Four months after opening, seven thieves with guns and machetes broke in and robbed 21 of the hostel's guests, Montaño recalls. But that was then: "Now, everything has changed." Today, his Media Luna Hostel, named after the up-and-coming street it inhabits, is making Montaño and his Getsemaní neighbors unlikely characters in the dramatic development of Colombia's sultriest city.
It all started with a 2003 tax incentive introduced by Colombia's former President Álvaro Uribe. The law includes a 30-year income tax exemption for all hotel construction or remodeling projects started before 2017. Since it was implemented, Cartagena has added over 10,000 hotel rooms in 298 hotels, according to the tourism bureau.

And the growth is not set to slow any time soon as some of the world's largest hotel brands rush to break ground before the 2017 deadline. In the next three years, Cartagena will become host to the Four Seasons, two Hiltons, an Intercontinental, and a Sheraton, just to name a few. All in all, international branded hotels are expected to add over 3,200 new rooms to this candy-colored city over the next three years.


Negative Impact

For Andrés Montaño, the slated 2016 opening of the Four Seasons in Getsemaní means deciding between selling his hostel now -- or coming up with the 'tens of millions' in capital it would take to convert the $17-per-night flophouse into a competitive luxury hotel.
"The market is getting hot. We'd have to raise our standards and prices. The idea is to transform it into a much more lucrative business," says Montaño, his eyes shining at the prospect -- before reality kicks in. "But we'd have to invest a whole lot. I don't know. We might sell and say forget it."
Other Getsemaní residents' choices aren't so attractive. Rising property prices have made it increasingly difficult for low-income residents to pay their property taxes. (Since 2006, property values in Getsemaní have tripled to reach $1,552 per square meter, according to local real estate firm Segrera Mutis.) On top of this, Cartagena's cost of living has risen 15% over the past five years according to the National Administrative Department of Statistics.

In short, locals are being pushed out.


"Ten years ago, there was no government, no investment here. We used to say, you go into Getsemaní with your clothes on and come out naked. It was a slum!" Mercedes Rizo, the 52-year-old manager of Di Silvio Trattoria, Getsemaní's most popular pizza joint, speaks passionately, her hands moving to the rhythm of her exclamations. "They didn't care before that these people weren't paying property taxes. Now, with the tourism, the government has more incentives to get these people selling, and get them out."
Here, average daily life for locals involves visits to the 'pay phone' where locals without cell phones line up to pay a street vendor with prepaid SIM cards. Or, if taxes can be paid, it means a walk down to 'accountant row' -- colloquially named Calle Caligrafos -- a humid street lined with sandal-wearing savants sitting with typewriters and paper.

Among Rizo's pizza patrons, the most common complaint is that the poorest neighborhoods in Cartagena aren't receiving enough support from the local government. "Locals are the reason tourists come to Getsemaní. They find a local flavor, a culture they don't find anywhere else in the city. If we lose that, we lose what attracted people in the first place," says Rizo. Though the waning look on her face suggests hers is a cause already lost.

Still, if Cartagena's hotel baron gentrification is casting a shadow behind its high-rise beach side buildings, out in front, the sun is shining.
Restaurants, Boutiques, and Fashionistas Follow
Ready or not, international tourists are piling into Cartagena's local airport (CTG) fast. Thanks to new direct routes from JetBlue, Spirit Airlines, and Avianca, the rate of passenger arrivals rose 183% over the past two years, reaching a record 3,042,570 in 2013, according to the tourism bureau. If Delta and United Airlines sign on, they expect the next few years to break more records.
Hotels were first to greet Cartagena's luxury-loving tourists, but other high-end businesses stand ready and waiting. Take Alejandro Ramirez, chef-owner of the cutting-edge seafood restaurant Maria in the chic Centro Historico neighborhood. Ramirez brings serious culinary chops to Cartagena, having cooked in London with Gordon Ramsay and at New York's posh Daniel. It cost him $250,000 to open Maria in 2012, and he's hoping to cash in.
"This is my baby, my first company. And the luxury boom here is going to be beautiful for my business," says the 33-year-old opportunist from Bogota.

Ramirez's neighbor, fashion designer/hotelier Silvia Tcherassi, has also been watching the market from her sleek store built artfully into Spanish colonial architecture. "Having boutiques in Latin America and the US, I know the market, and I can tell you the potential for growth in Cartagena is huge," says Tcherassi, the biggest Colombian name in Cartagena's fashion scene so far. Only a handful of top-tier luxury brands spot the city, such as Salvatore Ferragamo and Ermenegildo Zegna. And, as Tcherassi suggests, their boom may be next.

For now, Tcherassi's eponymous white-on-white, 7-room boutique hotel charges an average daily rate of $420 and glistens with certain calm in a town seemingly on the verge of a commercial explosion.
To get ahead of it, Tcherassi is building another, larger hotel -- this time with 42 rooms -- to open by the end of 2015. So what that international chains are about to add 3,200 new rooms? Tcherassi's sunny Colombian confidence shines through: "They can bring their own customers."
Cartagena Cheat Sheet
EAT: Maria, the hottest spot for fresh seafood, is located in the trendy Centro Histórico neighborhood. Try the pan-seared sea bass with cassava and artichoke ragout.

SHOP: St. Dom sells a carefully curated collection of Colombia's top 40 designers, including jewelry, home décor, and high-end clothing for men, women, and children. (Trust, no one else in New York City is going to have that St. Dom bracelet.)

DANCE: Two left feet? That's no excuse at the famous salsa club Café Havana, where young and old come to hear the best live music in the city. For a late-night singles scene, head to the multi-leveled La Movida, where techno beats blare in rooms where salsa doesn't.

DRINK: Media Luna Hostel's decidedly un-fancy Visa por un Sueño (Visa for a Dream) parties on Wednesday nights -- with live salsa bands and DJs -- are the most valid reason to re-visit your days as a beer-drinking backpacker. Want something more upscale? El Baron bar is where the selective well-heeled of Cartagena sip mai tai's and mojitos.


SEE: Swashbuckling tales of pirates and Spanish conquistadores come alive inside the historic San Felipe de Barajas Castle. Just don't wear heels: you'll be scaling the fortress walls for unbeatable city views.

STAY: The Tcherassi Hotel + Spa sets the standard for pampered glamour with white-on-white decor and private rooftop swimming pools. Splurge on the sunbathed suite (between $600 and $700 a night, depending on the season), one of only seven rooms.


Before it's here, it's on the Bloomberg Terminal.
LEARN MORE