Bridgewater Pure Alpha Fund Said to Rise 2.8% Last Month
Simone Foxman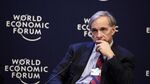 Bridgewater Associates LP, the $160 billion hedge-fund firm run by Ray Dalio, posted gains in two of its largest funds last month as rivals struggled to navigate global markets.
The Bridgewater Pure Alpha Fund returned 1.9 percent in August and 5 percent in the year's first eight months, according to a person with knowledge of the matter, who asked not to be identified because the information is private. Pure Alpha II rose 2.8 percent last month and 7.6 percent in 2014.
Dalio, a 65-year-old billionaire whose Westport, Connecticut-based firm is the industry's largest, has outperformed peers at a time when many macro fund managers are barely breaking even or losing money. Macro funds, which trade a range of assets to try to profit from macroeconomic trends, dropped 0.6 percent in August, paring gains to 1 percent for the year, according to data compiled by Bloomberg.
"The very core" of Bridgewater's strategy is leveraging fixed income, said Mark Yusko, founder of Morgan Creek Capital Management LLC, which invests in hedge funds. "In a year like this where interest rates fall they're going to have a great year."
Pure Alpha II rose 5.3 percent last year, trailing the 30 percent gain in the Standard & Poor's 500 and competitors including Louis Bacon's Moore Capital Management LLC and Fortress Investment Group LLC.
Fortress Fund
Fortress's main macro hedge fund lost 2.3 percent last month and 5.8 percent in 2014, the New York-based firm said yesterday in a regulatory filing. It rose 14.1 percent last year. Bets on rising interest rates in the U.S. and against U.S. and German government debt took a toll on Fortress in August, a person with knowledge of the trades said last week, asking not to be named because the information was private. The Fortress Asia Macro Fund fell 0.9 percent, pushing its year-to-date loss to 6 percent.
Fortress, the first-publicly traded private-equity and hedge-fund manager in the U.S., did better in its credit-focused strategies. The Drawbridge Special Opportunities Fund LP rose 0.6 percent in July to lift its year-to-date gain to 6.4 percent, according to the filing.
Bacon's $14.9 billion Moore lost money in two of its macro funds last month, another person with knowledge of the returns said last week. Moore Global Investments fell 0.7 percent, pushing its year-to-date decline to 5 percent. The New York-based firm's Macro Managers fund declined by 1.1 percent, trimming its 2014 return to 1.2 percent.
Autonomy, Einhorn
The $3.5 billion Autonomy Capital Research LLP posted a 0.1 percent return in its Autonomy Capital Global Macro Fund, raising gains this year to 12 percent, said a person briefed on the results.
More broadly, the $2.8 trillion hedge-fund industry is trailing the Standard & Poor's 500 Index of U.S. stocks for the sixth straight year. The Bloomberg Global Aggregate Hedge Fund Index rose 0.1 percent in August, bringing year-to-date returns to 2.5 percent, compared with 9.9 percent for the S&P 500 with dividends reinvested.
Among other large hedge funds, David Einhorn's equity-focused Greenlight Capital Inc. fund rose 0.4 percent in August, bringing year-to-date gains at the New York-based firm to 4 percent, according to an investor update obtained by Bloomberg.
Singer, Glenview
Paul Singer's Elliott Management Corp., which is battling Argentina over debt payments, lost 0.8 percent in its Elliott Associates LP fund, cutting year-to-date gains to 4.7 percent.
Glenview Capital Management LLC, run by Larry Robbins, gained 4.6 percent last month in its Glenview Institutional Partners fund and is up about 15.4 percent this year, said a person with knowledge of the gains. Neil Chriss's $2.5 billion Hutchin Hill Capital LP also made money with its main fund gaining 1.1 percent in August, bringing this year's gains to 8.3 percent.
John Paulson, whose namesake hedge-fund firm oversees $22.8 billion, posted mixed results across strategies. Paulson & Co.'s Credit Opportunities Fund gained 0.5 percent, boosting its 2014 gain to 7 percent, a person familiar with the matter said last week. The New York-based firm's Advantage Fund, which bets on companies involved in events such as bankruptcies or spinoffs, fell 1.6 percent in August and 5.6 percent this year.
Spokesmen for the firms declined to comment on the returns.
(Corrects story published Sept. 9 to show Drawbridge return for July in seventh paragraph.)
Before it's here, it's on the Bloomberg Terminal.
LEARN MORE