Wall Street Lawyer Serves New York Burgers to Hungry Londoners
Richard Vines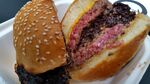 Zan Kaufman used to help out with Sunday brunches at her friends' Zaitzeff burger restaurant on 2nd Avenue while she was a corporate lawyer in New York.
The relentless pressure, the long hours -- something had to give. She quit law and opened her own burger truck in London. Now, she has found a store in the British capital that will be the first permanent base for Bleecker St. Burger and she has plans to expand.
Kaufman, 35, who was born in Greenwich, Connecticut, specialized in litigation at Paul, Weiss from 2006-09 and at Jones Day after that. It was love that set her free.
"I got married to a Brit so I knew I was moving over here and I wanted to open a burger place really before I knew what was going on here," she said in an interview at the venue in Spitalfields market, close to London's City financial district.
Bleecker sells as many as 300 patties a day from its truck in the market, which is also home to restaurant chains. Her new store will be close by. Kaufman said competition is strong for top-end burgers: Her rivals include Patty & Bun, Lucky Chip, Burger Bear, Mother Flipper, Street Kitchen and Honest Burgers.
That's to say nothing of Shake Shack and Five Guys, which opened in London's Covent Garden on July 4 last year.
So how do New York and London compare?
"At the top, they're both in the same place," Kaufman said. "Where the major difference comes into play is the average burger. In New York, the diner burgers are great. If you compared diner burgers in New York to pub burgers here, there's a major difference between the two. New York is way ahead."
Less Foodie
What would a New Yorker make of the average London burger?
"New Yorkers tend to be less foodie," she said. "Everyone goes out to eat but it's more about where they're eating and the atmosphere: It's entertainment. They have this preconceived notion that London's food is horrible and it's hard to shed."
London prices might give them pause for thought. The standard cheeseburger at Bleecker St. is 6 pounds ($9.67); the double is 8.50 pounds. The new Bleecker Black -- which also features Clonakilty black pudding -- weighs in at 10 pounds.
If you fancy a slice of beef blood squeezed between two burgers with cheese, this may be the one for you. I tried one on your behalf. I had a serving of Angry Fries -- Maris Piper chips topped with a blue cheese and hot sauce -- on the side.
The burger was so intense and rich, I don't begrudge the time it may have taken off my life. But I should write faster if I want to be sure to get this finished while I have time.
Kaufman's business partner, Liam O'Keefe, said the Bleecker Black is a fine marriage of his Irish cultural heritage with Kaufman's American. I just thought it tasted good.
The meat comes from The Butchery, in Bermondsey, which specializes in native-breed, pasture-fed cattle, including Dexter, Belted Galloway, Hereford and White Park.
Kaufman said that there are so few places in London serving top-quality burgers at speed, there's room for expansion.
"I hate the word roll out because I didn't do this to develop a concept and sell the brand," she said. "I feel like this is my child. But I want to make a lot, yeah. It's fun."
Bleecker St. Burger, information: http://www.bleeckerburger.co.uk/ or +44-771-254-0501
(Richard Vines is the chief food critic for Bloomberg. Opinions expressed are his own. Follow him on Twitter @richardvines)
Before it's here, it's on the Bloomberg Terminal.
LEARN MORE