South Africa President Zuma Due in Lesotho to Mediate Crisis
Mathabiso Ralengau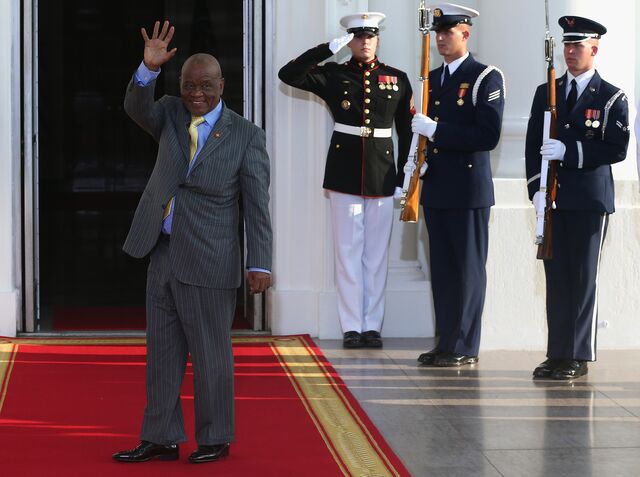 South African President Jacob Zuma will visit Lesotho tomorrow in a bid to mediate a political crisis that has gripped the mountain kingdom since an alleged army coup attempt last month.
Lesotho's communications minister, Selibe Mochoboroane, told MoAfrika radio today that Zuma's trip follows Prime Minister Thomas Thabane's failure on Sept. 5 to sign a bill ordering the reopening of parliament. Officials of the coalition government agreed with the South African leader in Pretoria on Sept. 1 to call the legislature back into session.
"The decision calls for immediate intervention," Mochoboroane told the radio station, based in the capital, Maseru. Zuma's office confirmed the visit in a statement today.
Lesotho, an enclave within the borders of South Africa, has been in limbo since Thabane fled on Aug. 30, saying the army tried to overthrow him. Political tension has intensified since June, when Thabane suspended parliament until February, a move opposed by other coalition partners, including the Lesotho Congress for Democracy, which is led by Deputy Prime Minister Mothetjoa Metsing.
In a further sign of discord, Lesotho's army spokesman said today the military remains under the command of Lieutenant-General Tlali Kamoli, who was dismissed by Thabane on Aug. 29.
"The LDF wishes to allay public fears that the army has factions," army spokesman Major Ntlele Ntoi said today in a statement handed to reporters. "We still operate under Lt General Kamoli."
A former British protectorate that won its independence in 1966, Lesotho has suffered military coups in the past. South Africa's apartheid government backed an army takeover in 1986, before a counter coup in 1991 allowed elections two years later.
Before it's here, it's on the Bloomberg Terminal.
LEARN MORE