Shell's Jekyll and Hyde Approach to Climate Change
By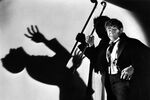 In April, Royal Dutch Shell headlined a group of 70 companies that called on world governments to cap greenhouse gas emissions at a level that will contain global warming. The "Trillion Tonne Communique," named for the amount of heat-trapping gases that scientists believe can be added to the atmosphere while keeping warming within 2 degrees Celsius of pre-industrial levels, was described as a "global call to arms from businesses who take the science of climate change seriously and are demanding a proactive policy response."
For all its vaunted language, Shell continues to fund and support several groups pursuing the opposite aim: to stymie climate policies sprouting up around the globe that the Trillion Tonne Communique applauds.
Take, for instance, the escalating climate-policy battle in California. The state's global-warming policy, enacted in 2006, already regulates emissions from power plants and large industrial facilities. On Jan. 1, the policy will expand to include transportation fuels, which account for 36 percent of the state's heat-trapping emissions.
The policy's objective is to reduce California's emissions to 1990 levels by the year 2020. By the Trillion Tonne Communique's standards, it's an extremely modest step. The state would need to trim emissions five times faster to approach the pace that the communique calls for, according to the California Air Resources Board.
Yet California's climate rules are coming under withering attack from oil-backed groups, who say including oil under the climate rules amounts to a "hidden gas tax" that will hit California's working families the hardest, Bloomberg Businessweek reported last week.
The most active group, the two-month-old California Drivers Alliance, calls itself a "movement of motorists, small businesses, fuel providers and consumers" who want to stop the regulations from expanding into transportation fuels on Jan. 1. The group has been running online ads, radio spots, and near-full-page newspaper ads across the state, including the Los Angeles Times, urging readers in bold letters to "Stop the Hidden Gas Tax," which, it says, will "increase the cost of gas between 16 cents and 76 cents per gallon."
(Outside experts call these estimates wildly exaggerated. An analysis by Severin Borenstein, a professor at University of California at Berkeley's Haas School of Business, shows the price increase will most likely come to 9¢ to 10¢ per gallon.)
California Drivers Alliance has received all its funding, so far, from the Western States Petroleum Association (WSPA), according to Alliance spokesman Jerry Azevedo. WSPA's list of 27 members includes three businesses owned or co-owned by Shell. Jonathan French, a spokesman for Shell, declined to comment. WSPA spokesman Tupper Hull did not reply to several requests seeking comment.
Jeremy Leggett, chairman of Carbon Tracker Initiative, a nonprofit think tank that studies the climate risks facing energy companies, says providing funds and support to groups that oppose climate rules betrays any feel-good pledges. "Oil companies know their businesses face an existential threat," he says. "They are digging into a ruinous path and doing everything they can to continue that into the future, including green-washing and blatant hypocrisy."
Shell has backed other groups opposing regional climate rules. The Australian Petroleum Production & Exploration Association, which includes a Shell executive on its 16-member board, hailed the country's repeal in July of its carbon policy, which made Australia the first developed nation to rescind a price on carbon emissions.
Shell isn't the only major oil company with climate contradictions. BP states on its website that it supports climate action: "The scale of this challenge is such that governments must act by setting a clear, stable and effective carbon policy framework." BP, like Shell, is a member of WSPA and has an executive on the board of the Australian Petroleum Production & Exploration Association. BP spokesman Scott Dean declined to comment.
Before it's here, it's on the Bloomberg Terminal.
LEARN MORE