pursuits
Serena Williams Topping the Charts
By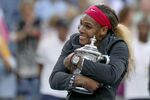 Yesterday Serena Williams took home a $4 million check from the U.S. Open—the most money ever paid to any athlete for winning a tennis tournament. It's a full $400,000 more than the amount Rafael Nadal earned at last year's Open.
Winning the Open brings $3 million in prize money. Williams was eligible to earn an extra $1 million bonus because she had already won another series of tournaments this summer sponsored by Emirates Airline. At last year's U.S. Open, Nadal also got the bonus, bringing his winnings from the tournament to $3.6 million.
Notice that Williams's $4 million payday beats women AND men in tennis. This reflects the increasing amount of money in tennis and that Grand Slam events now pay equal amounts of prize money to men and women.
With her U.S. Open win, Williams has earned more than $60 million in career prize winnings, according to WTA's latest data release (pdf). That's double the next two competitors (Maria Sharapova and Venus Williams)—who each have earned $30 million in their careers.

Serena Williams's $60 million compares well even with the men—putting her at No. 4 among tennis players of either gender:

Before it's here, it's on the Bloomberg Terminal.
LEARN MORE