Ryanair Readies for 'Fare War' Across Europe With New Boeing Fleet
By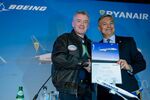 Europe's biggest budget airline, Ryanair, is making a major bet on Boeing's next generation of the 737 as it aims to pack more seats on the new jets and steal market share from some of the continent's biggest players.
The order for 200 new 737 MAX jets will take Ryanair's fleet to 520 planes by 2023, up from 300 now. The Irish budget carrier is targeting 150 million annual passengers by then, and Chief Executive Michael O'Leary has made no secret that he intends to draw that additional traffic from such European giants as Lufthansa, British Airways' parent IAG, Air France-KLM, Alitalia, and Scandinavia's SAS.
"This is the aircraft we've been waiting for at Ryanair for about 10 years," O'Leary said today at a news conference. He predicted "a fare war" as Ryanair reaps cost savings from the new jet, which will hold 197 people and burn nearly 20 percent less fuel than current 737 models. "It is going to mark a step change in Ryanair's efficiency," he said. That, in turn, should allow the airline to lower its fares further to attract more travelers. Ryanair's current average fare is about €50 ($66).
The airline has been keen to pack as many as 200 passengers on a 737 to boost the revenue potential. The new models approach that goal, with eight more seats than Ryanair has ever flown, with the same crew of four flight attendants. The new MAX models will each generate about $1 million per year in additional revenue, O'Leary said, with the extra seats and an average load factor of 85 percent. Last year Ryanair also placed orders for 175 of Boeing's current 737-800s.
At list prices, the 200-jet MAX order is worth $22 billion. Large customers like Ryanair typically receive steep discounts, sometimes as much as 50 percent. The airline has been a sole Boeing customer for more than 30 years. Southwest Airlines is the launch customer for the 737 MAX, with delivery expected in 2017.
Before it's here, it's on the Bloomberg Terminal.
LEARN MORE