RBS U.S. Unit Seeks Valuation Up to $14 Billion in IPO
Elizabeth Dexheimer and Leslie Picker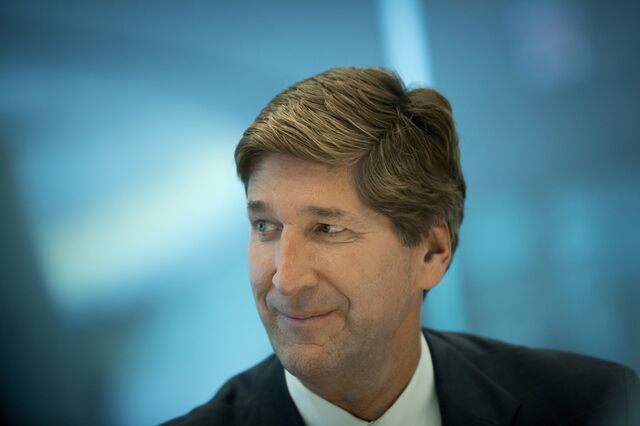 Citizens Financial Group Inc., the U.S. unit of Royal Bank of Scotland Group Plc, is seeking to raise as much as $3.5 billion in the largest initial offering of a U.S. bank since Goldman Sachs Group Inc. went public in 1999.
RBS is offering 140 million shares, or about 25 percent of the unit, for $23 to $25, according to a regulatory filing yesterday. At the high end of the range, Citizens is valued at as much as $14 billion, which would make it the 11th-largest publicly traded bank in the U.S., data compiled by Bloomberg show.
RBS, which had said it was open to takeover offers for the unit, is spinning off the lender to boost profitability and recoup some of the money spent on a bailout during the financial crisis. The U.S. unit is valuing itself at a discount to peers as it also seeks to increase return on equity, a measure of profitability, to more than 10 percent in the next two to three years from 5 percent last year.
"The backdrop for the regional banking industry is tough and the competitive environment is getting more challenging," said Jennifer Thompson, an analyst at Portales Partners LLC. "Citizens' valuation is reflecting all of that."
As it's prepared for the IPO, Citizens has scaled back in the Chicago market and is adding staff as part of Chief Executive Officer Bruce Van Saun's plan to expand beyond the U.S. Northeast and Midwest.
Relative Value
At the high end of the offering range, Citizens would be valued at 1.07 times net tangible book value of $13.1 billion. That compares with 1.32 times net tangible book value at Fifth Third Bancorp, 1.56 at PNC Financial Services Group Inc. and an average of 1.91 times for U.S. banks with a market value of more than $1 billion, data compiled by Bloomberg show. Those peers generate an average return on equity of 8.5 percent, the data show.
RBS had been open to takeover offers for Citizens, holding talks with potential buyers that didn't yield anything substantial, Van Saun said in January. The bank posted revenue of $4.69 billion last year, a decline of 4.2 percent from 2012.
"If this was a better environment, you wouldn't have even seen an IPO," Portales's Thompson said. "There would have been an outright sale."
Synchrony, Ally
Citizens' IPO could be the largest by a bank in the U.S. since Goldman Sachs raised $3.66 billion in 1999, and could be the biggest by any financial-services company in the U.S. since Visa Inc. raised $19.7 billion in 2008, data compiled by Bloomberg show.
Synchrony Financial, the consumer-lending arm spun off from General Electric Co., raised $2.88 billion in a July offering. Its shares have climbed 8 percent through yesterday. Ally Financial Inc., the auto lender rescued by the U.S. government during the 2008 financial crisis, raised $2.38 billion in its April debut and has dropped 4.4 percent.
RBS received 45.5 billion pounds ($73.5 billion) from the U.K. government in the bailout. Its U.S. subsidiary was one of three U.S. units of foreign banks whose capital plan was rejected by the Federal Reserve in its annual stress test. U.S. regulators cited flaws in the unit's internal processes.
Edinburgh-based RBS is preparing the IPO as Scotland is poised to vote for independence from the U.K. next week. RBS and Lloyds Banking Group Plc, the U.K. banks that lend the most in Scotland, extended declines yesterday after a poll showed a majority of voters back independence for the first time.
RBS fell for a second straight day in London, declining 1.3 percent to 342.50 pence. Lloyds dropped 2.4 percent to 72.20 pence after slumping 3 percent last week.
Citizens, which traces its history to 1828 as High Street Bank, has $130.3 billion in assets and has been owned by RBS since 1988. RBS will own 75 percent of Citizens after the IPO, according to the filing.
Citizens will list its shares on the New York Stock Exchange under the symbol CFG. Morgan Stanley, Goldman Sachs and JPMorgan Chase & Co. are managing the offering.
Before it's here, it's on the Bloomberg Terminal.
LEARN MORE