Why Did the NFL Need a Video to Deal With Ray Rice?
By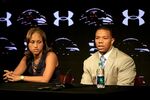 Ray Rice was cut from the Baltimore Ravens on Monday afternoon and, at almost the same moment, suspended indefinitely by the National Football League. Both actions came after the gossip website TMZ released video of the star running back knocking his wife unconscious with a punch. Without the video, it seems clear Rice would have kept his job.
The league had already suspended Rice for two games for the same incident, which occurred inside an Atlantic City hotel elevator in February. The initial punishment prompted widespread criticism from those who saw it as too lenient, and last month NFL Commissioner Roger Goodell sent a letter to team owners announcing stiffer penalties for acts of domestic violence by players. "I didn't get it right," he wrote.
The stark moves by the Ravens and the NFL are not a response to any new information about Rice and his abusive behavior. Everybody knew and acknowledged that he had knocked his wife unconscious in the elevator. The football-watching public—in another TMZ scoop—had already become familiar with footage of Rice dragging his wife's limp body out of the elevator. Now league officials and everybody else can see Rice actually hit her. There's some controversy over whether the NFL had already seen footage of the punch.
Here is how NFL spokesman Greg Aiello described the shift:
Pause and ponder that for a moment. What was a two-game suspension became a potential expulsion from the league simply because a video "became available."
The Rice story echoes the downfall of former Los Angeles Clippers owner Donald Sterling earlier this year. Most people in NBA circles had long known—based primarily on settlements he paid in housing discrimination investigations—that Sterling was a repugnant racist. But he was forced out—once again, because of TMZ—only after the world could hear him, in his own voice, expressing repugnant racism.
The quick implications: People will tolerate just about anything that they read but very little they see or hear. And TMZ, with its willingness to pay for information, can make itself into the most powerful organization in sports at any moment.
Before it's here, it's on the Bloomberg Terminal.
LEARN MORE