Raimondo Pension Overhaul Challenges Labor in Rhode Island Race
William Selway and Brian Chappatta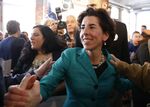 When Rhode Island Treasurer Gina Raimondo pushed through pension cuts for government workers in 2011 in a bid to save $4 billion, she earned the wrath of public unions -- and the support of voters like Mike Piccoli.
"If they didn't stop the bleeding now, it would have been a disaster," said Piccoli, a 54-year-old Democrat from Johnston, a city of 29,000 outside Providence, who worked as a union carpenter before becoming disabled. "She's the only one who did something about it."
Raimondo, 43, a former venture capitalist and Rhodes Scholar, is about to find out if her overhaul of the Ocean State's struggling pension system, which bolstered the state's standing on Wall Street, can be parlayed into the Democratic nomination for governor.
Rhode Island holds primaries tomorrow, and the election has turned into an open race between Raimondo, Providence Mayor Angel Taveras, 44, and Clay Pell, the 32-year-old grandson of a former Rhode Island U.S. senator. The campaign's focus has largely been on how to revive the state's economy. Rhode Island's 7.7 percent jobless rate is tied for the nation's third-highest.
'Real Signal'
As U.S. states and cities contend with underfunded worker retirement systems that are crowding out spending for services, roads and schools, the vote is a test of whether a Democrat can challenge unions that have been a pillar of the party's support and still win at the ballot box.
"It will send a real signal to other politicians about what it means to take on this particular interest group," said Marion Orr, a political scientist at Brown University in Providence and former head of its Taubman Center for Public Policy and American Institutions. "She may be able to pull this off."
Pensions are an issue in the race because the overhaul was Raimondo's main achievement since winning election four years ago. Her efforts have led Taveras to portray her as a tool of Wall Street.
Government unions have divided their support between Taveras, who was raised in public housing by his Dominican immigrant mother, and Pell, a former official in President Barack Obama's Department of Education and husband of Olympic figure skater Michelle Kwan. All three candidates went to Harvard University.
Poll Leader
A poll last month by Fleming & Associates, a Cumberland, Rhode Island-based firm, found that Raimondo had the support of 32 percent of likely Democratic voters, with 27 percent backing Taveras and 26 percent for Pell. The survey of 503 people was conducted by landline and mobile phone from Aug. 11-14. It had a margin of error of about 4 percentage points.
Tomorrow's victor will face either Cranston Mayor Allan Fung or businessman Ken Block, both Republicans.
Public-sector unions have fought Raimondo for what they say were unnecessarily deep pension cuts that she pushed through the legislature instead of negotiating. The revamp she led included steps such as delaying retirement.
"I don't think there's anyone who's familiar with the state's pension who didn't think something needed to change, but there's a difference between tweaking and draconian cuts," said Phil Keefe, president of Service Employees International Union Local 580, which supports Taveras. "Everyone on labor's side was totally ignored."
Providence's Challenges
Taveras faced fiscal challenges in Providence, which at one point was on the brink of running out of cash. The mayor, who negotiated a suspension to cost-of-living adjustments for workers and fired teachers to deal with budget shortfalls after the recession, faulted the treasurer for not working more closely with unions.
"Changes needed to be made," he said in an interview at a senior citizens center in East Providence last week, where he was meeting voters. "When people feel like they're part of the process, when they feel like there's shared sacrifice, they're willing to sacrifice too."
Pension benefits have strained municipalities following the financial crisis, when retirement systems suffered investment losses. Even with stock indexes setting record highs, states and local governments had about $1.4 trillion less than they needed as of the end of March to pay for promised benefits, according to the Federal Reserve Board.
In Illinois, Pennsylvania, and New Jersey, such shortfalls have contributed to credit-rating cuts, which may cost taxpayers by increasing interest rates.
Local Bankruptcy
The plight of public-pension funds drew attention in Rhode Island, where the economy was once driven by manufacturing and other factory work. In 2011, Central Falls, near Providence, went bankrupt, and its retirees eventually had to accept cuts to pension checks.
"You would have seen more bankruptcies just like Central Falls," Raimondo said in an interview as she met voters at the Providence home of a supporter.
"If pension reform didn't happen, the kind of cuts you would have seen to social programs would have just been wrong and painful," she said. "The reality is we did pension reform to save pensions for hardworking school teachers and public employees."
In 2010, the retirement system for state and municipal employees had $7.3 billion less than it needed to pay for benefits, according to actuaries. To make up for years of underfunding, taxpayer contributions to the state retirement system were set to jump to $615 million in 2013, more than double the 2010 level, according to a report from Raimondo's office.
2011 Approval
In November 2011, acting on her recommendations, the legislature and Governor Lincoln Chafee, then a political independent, agreed to raise retirement ages, suspend cost-of-living increases and introduce 401k-style plans.
While the changes were passed by a majority in the legislature and went into effect, unions sued to block them. The measures are still being fought in court, after police officers rejected a proposed settlement. A Moody's Investors Service analyst, Marcia Van Wagner, said the overhaul has helped the state preserve its credit rating, which at Aa2 is third highest.
"I would think it would prop up Rhode Island bond prices" if Raimondo wins the primary and the November election, said John Mousseau, director of fixed income at Cumberland Advisors, which manages $1.2 billion of munis from Sarasota, Florida. "Because of her voice and her profile, it can't hurt other states that are facing similar pension pressures from taking that kind of a roadmap."
Profile Boost
Raimondo's efforts raised her national profile and put her among Democrats, including Chicago Mayor Rahm Emanuel and San Jose Mayor Chuck Reed, who have fought public workers over pensions. In Rhode Island, the changes boosted her popularity in December 2011, when those supporting the new law outnumbered opponents by more than two-to-one, according to a poll by Brown University's Taubman Center.
John Antonelli, a state parole officer, isn't among the backers. He said it was unfair to change benefits for workers mid-career, and criticized Raimondo for not working closer with unions.
"Raimondo is awful, what she did to our pensions," said Antonelli, 57, from Warwick, who said he planned to vote for Pell. "I signed on for a certain type of pension and I'm not going to get it."
Taveras has run TV ads criticizing "Wall Street values" and has challenged Raimondo for reducing pension benefits at the same time that she was putting more of the state's retirement money into hedge funds that charge higher fees than traditional investments.
Those arguments didn't resonate with Piccoli, the carpenter from Johnston, who said the pension changes probably cushioned public workers from an even bigger hit later.
"She saved a lot of money for the public," he said. "She saved the unions in the long run."
Before it's here, it's on the Bloomberg Terminal.
LEARN MORE