Obama's Immigration Reform Punt Is Good Politics
By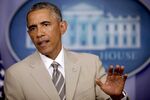 Over the weekend, the White House quietly conceded what had been rumored for weeks: President Obama will not impose a mass deferral of deportations, despite his showy declaration on June 30 that if Republicans didn't act on immigration reform by summer's end, he would. "America cannot wait forever for them to act," he scolded back then. Turns out we may have to.
Obama is being roundly pilloried by liberals, especially immigration activists. "We are bitterly disappointed in the President and Democrats," tweeted Frank Sharry, founder of the immigration reform group America's Voice. "We didn't make the reform promise; we just made the mistake of believing it." The president is being attacked by Republicans, too. On Saturday, House Speaker John Boehner complained that the delay "smacked of raw politics."
You have to marvel at Obama's capacity for issuing stern warnings and drawing red lines, only to shrink or backtrack when his admonitions don't have their desired effect. But in this case, Obama's big mistake was issuing a threat he wasn't prepared to follow through on—he's right to punt on immigration reform now and take it up after the election.
There are three reasons why delay is wise for liberal supporters of immigration reform. First, as Senate Democrats quietly (and then not-so-quietly) pointed out, granting legal status to millions of undocumented immigrants would enrage many conservatives—and possibly independents and Democrats, too—and threaten the reelection of vulnerable Democrats in Arkansas, Louisiana, North Carolina, and Alaska. This could cost Democrats the Senate.
Second, if Obama were to act now and Democrats lost the Senate in November, it's likely that politicians and members of the media—who often struggle with cause and effect—would blame immigration reform, rather than Obama's unpopularity and the disproportionate number of seats Democrats must defend this year (21, vs. 15 Republican seats). This would probably set back the cause Obama and Democrats purport to agree on, even if they disagree on timing.
Finally, the politics of immigration reform will shift after the election in a way that will make presidential action much easier for Democrats to swallow. The big event on the horizon will be the 2016 election, which, because it's a presidential year, will draw a younger and more diverse electorate more favorably inclined toward immigration reform. The Senate dynamic will flip, too. In 2016, Republicans will be defending 24 seats, vs. only 10 for Democrats—the lag effect of the Tea Party wave of 2010. In that context, Obama's action to end deportations would hurt Republicans, not Democrats. GOP presidential candidates won't relish having to answer questions about whether they'll support Obama's "amnesty" or overturn it and deport millions of immigrants. The political pressure would fall on Republicans, whose failure to pass reform would imperil their chances to control the Senate and the White House.
Before it's here, it's on the Bloomberg Terminal.
LEARN MORE