Mathew Martoma, Convicted SAC Trader, Gets Sentenced Today
By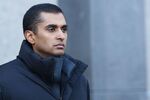 Around 9 p.m. on Nov. 8, 2011, a pair of FBI agents pulled up outside Mathew Martoma's home in Boca Raton, Fla., a 6,200-square-foot mansion tucked behind a circular driveway and lavish palm trees. They were there to talk to Martoma about insider trading at SAC Capital Advisors, his former employer and one of the world's largest hedge funds. The Securities and Exchange Commission, the FBI, and the U.S. Attorney's Office in Manhattan were five years into a far-reaching investigation of illegal trading among hedge funds across the country, and just three weeks before, Raj Rajaratnam, the co-founder of the $7 billion fund Galleon Group, had been sentenced to a record 11-year prison term for insider trading. The government was fairly confident that Martoma would lead them to an even bigger prize: one of the richest men in the world and the founder of SAC, Steven Cohen.
From that point on, nothing proceeded quite as the government expected.
Instead, Martoma is scheduled to be sentenced on Monday in what prosecutors describe as "the most lucrative insider trading scheme ever charged." After an investigation, an arrest, and a high-profile five-week trial in January, Martoma was convicted of insider trading in two drug stocks, Elan and Wyeth, and earning profits and avoiding losses of $275 million while working as a portfolio manager at SAC. The government alleged that he spoke with Cohen right after learning about important drug-trial results, and that Cohen traded the two stocks as well. Martoma's was the eighth conviction of a former or current SAC employee of insider trading.
From the FBI's perspective, Martoma was an ideal candidate for cooperation. He has three young children and a beautiful, devoted wife, all of whom he would be separated from during a long prison term. He was also fired from SAC after failing to replicate his success in Elan and Wyeth and, the government believed, there was powerful evidence against him. He had no reason to be loyal to his former boss and he had a lot to lose. Still, Martoma baffled everyone by refusing to flip, insisting he was innocent and bringing the government's determined march toward Cohen to an abrupt stop. Without a witness, any developing case against the hedge fund founder fell apart. Now it is Martoma who faces a sentence of up to 20 years, although it's likely to be closer to eight.
Cohen was never charged with insider trading, and his life goes on relatively unchanged. Prosecutors indicted SAC in January 2013, calling the company a "magnet for market cheaters." The firm agreed to plead guilty and pay a $1.2 billion fine (not including $600 million already pledged to the SEC over Martoma's trades). A civil case brought by the SEC charging Cohen with failing to supervise his employees has not been resolved. Cohen shut down his hedge fund and transformed his firm into a family office, Point72 Asset Management, which invests his personal fortune. He continues to spend his days at his high-tech computer station on the firm's trading floor, buying and selling stocks, his main passion in life. He vacations with his family, goes to benefits and art fairs, and sits in the fancy seats at Knicks games.
Things are much the same for Cohen's employees, as well: They continue to make more money working for him than they can almost anywhere else. On Sept. 5, the New Canaan (Conn.) Patch.com reported that a local resident had been arrested and charged with reckless driving after being pulled over by police and then speeding away in a McLaren P1, a $1.35 million race car that looks like Darth Vader's face on four wheels. The driver was SAC portfolio manager Paul Orwicz.
It turned out, though, that they had made a mistake. "Orwicz called Patch on Friday to say that it was only a McLaren 12C," the site reported. The 12C retails for $231,000.
Before it's here, it's on the Bloomberg Terminal.
LEARN MORE