Kerry Heads to Middle East Seeking Allies Against Islamic State
Donna Abu-Nasr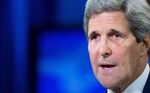 U.S. concerns about the Islamic State are echoed in the Middle Eastern capitals that Secretary of State John Kerry will be visiting this week, yet that doesn't mean he'll find it easy to recruit allies there.
Kerry, who'll travel to nations including Saudi Arabia and Jordan, and Defense Secretary Chuck Hagel will be touring the region after President Barack Obama said last week that it's "absolutely critical" to have Sunni Arab states that are "prepared to join us actively in the fight" against Islamic State. The militant group has declared a caliphate and executed captives after seizing parts of Iraq and Syria.
The U.S. has already carried out more than 100 air strikes on Islamic State, while emphasizing that it has no intention of shouldering the entire burden of defeating it, or sending ground troops to join the battle. The group rose to prominence fighting to oust Bashar al-Assad in the civil war that began in 2011. That's a goal shared by U.S. allies in the Sunni world, led by Saudi Arabia, who are critical of Obama's reluctance to use force against the Syrian president and his rapprochement with Assad ally Iran.
"Regional powers have an interest to join forces to confront Islamic State as a common threat," said Oraib Rintawi, head of the Amman-based Al Quds Centre for Political Studies. "But there are deep differences between the different components, and each party will try its best to highlight and secure its own interests and ensure that the outcome of this campaign won't benefit their opponents."
'Absolute Clarity'
The Gulf states are concerned that defeating the Islamic State would benefit the Shiite camp headed by Iran, just as the removal of Saddam Hussein did in 2003. The success of any regional effort may depend on whether Saudi Arabia, the leading Sunni power, and Iran can compromise over their regional roles, wrote Lina Khatib, director of the Carnegie Endowment for International Peace's Middle East Center in Beirut.
While both see the Islamic State as a threat, they're also concerned to ensure that "the powers prevailing in its wake in Syria and Iraq are sympathetic" to their interests, she wrote in a Sept. 3 report.
In an interview with NBC aired Sept. 7, Obama said that the rise of Islamic State should change regional perspectives. "Perhaps the first time, you have absolute clarity that the problem for Sunni states in the region, many of whom are our allies, is not simply Iran. It's not simply a Sunni-Shiite issue," he said.
Religious Scholar
After meeting NATO allies last week to discuss the Islamic State threat, Kerry and Hagel listed the "lines of effort" that an international coalition must pursue. They include military support for Iraqi forces fighting the group, and efforts to cut off its funding, address the humanitarian crises arising in the wake of its advance, and undermine its ideological appeal.
In a demonstration of how U.S. allies can contribute in the latter area, top Saudi religious scholar Abdulaziz Al Al-Sheikh delivered a denunciation of Islamic State, saying the group's actions distort Islam and that Muslims should fight back against it, al-Eqtisadiah newspaper reported.
There are also differences, and the visiting officials can expect to be grilled about U.S. unwillingness to intervene earlier in the Syrian conflict and on the opposite side, said Mustafa Alani, an analyst at the Gulf Research Center. Obama pulled back from proposed military action against Assad's forces last year.
'Lot of Demands'
There'll be "a lot of hesitation, a lot of questioning, a lot of demands," Alani said.
The United Arab Emirates last week expressed willingness to join the international effort, while saying it shouldn't just focus on Islamic State. "Any action must begin with a clear plan for direct intervention against ISIS but must address the other dangerous extremist groups in the region," the foreign ministry said in a statement.
The U.S. has criticized the U.A.E. for carrying out airstrikes against Islamist militias in Libya. The Gulf nation hasn't confirmed that it did so.
Countries such as Saudi Arabia and Jordan can provide expertise and intelligence on the Islamic State, said Paul Sullivan, a Middle East specialist at Georgetown University in Washington. They will be compensated by the U.S. in the form of weapons, training, trade, investment, and, in the case of Jordan, aid, he said.
'Not Too Late'
In Iraq, airstrikes by the U.S. against Islamic State have been complemented by ground attacks carried out by the Iraqi army and the Kurdish forces, which are receiving arms from Western countries for the task.
It's not clear who could carry out a similar role in Syria, where the more moderate anti-Assad groups promoted by the U.S. and its allies have enjoyed less success on the battlefield than Islamic State.
The main Western-backed rebel group, the Free Syrian Army, is ready to serve as a ground force for U.S. air strikes, a spokesman Khalid Saleh said in an interview last week.
While FSA's capabilities have been eroded over the past couple of years because of empty promises and neglect on the part of its backers, "it's not too late to revitalize" the group and its political counterpart, the Syrian National Coalition, according to David L. Phillips, director of the Program on Peace-building and Rights at Columbia University's Institute for the Study of Human Rights.
"There are no good options in Syria, but they probably are the best options, compared to ISIS" and other radical groups, he said.
Before it's here, it's on the Bloomberg Terminal.
LEARN MORE