Iran's Khamenei Undergoes 'Successful' Prostate Surgery
Colin Keatinge and Ladane Nasseri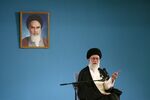 Iran's Supreme Leader Ayatollah Ali Khamenei underwent prostate surgery today at a Tehran hospital, officials said, in a rare public report on his health.
Khamenei's website characterized the procedure as "successful" without giving the underlying cause. The official Islamic Republic News Agency described it as an "ordinary operation." Khamenei himself took an upbeat tone in a pre-surgery television interview published on state-run Iranian Students News Agency.
"God willing, things will go well," the 75-year-old leader said in the interview. "There's no need to be worried but it doesn't mean people shouldn't pray."
Khamenei was hospitalized as his country and world powers try to craft a final accord meant to banish global concerns about the nature of Iran's nuclear program in exchange for the lifting of international sanctions. Iran denies charges that its civilian nuclear program is a cover to build weapons.
Accounts of Khamenei's hospitalization are unlikely to undercut efforts toward a final nuclear accord, said Geneive Abdo, a research fellow at the Washington-based Stimson Center.
"There is a clear strategy from Iran and that is to have sanctions lifted," Abdo said in a phone interview. "Decisions around nuclear talks have been made a long time ago."
Cancer Rumors
At the same time, the official account of Khamenei's surgery was noteworthy because there have been "unverifiable" rumors that Khamenei has prostate cancer, she said. Iranian officials may have reported his hospitalization to avoid leaks that would have implied "his condition is serious and they are trying to conceal it," she said.
State media published what it said were pictures of Khamenei lying on a hospital bed after the surgery, with President Hassan Rouhani tending to him before setting off on a trip abroad. Khamenei's endorsement has been key to letting Rouhani's government work with the U.S. to try to strike a deal over Iran's nuclear program.
Prostate surgery is common in older men and in most cases involves removal, Khamenei's chief doctor, Alireza Marandi, said in the report on the Iranian leader's website. Khamenei has "had this illness for some time and the doctors' views were that it's now a suitable time for surgery," he said.
"The leader is in a good condition and he asked me to convey his state of health to the people," Marandi said. Khamenei will need three- to five days of recovery in the hospital, he added.
Khamenei has been Iran's supreme leader since 1989, assuming that position after two terms as president. He succeeded the late Ayatollah Ruhollah Khomeini, who led Iran's 1979 revolution and founded the Islamic Republic. Under Khamenei's leadership, Iran has maintained a hostile stance toward the U.S., accusing it of seeking to undermine it.
Before it's here, it's on the Bloomberg Terminal.
LEARN MORE