IHOP Stuffs Bacon and Cheesecake Into Its Waffles
By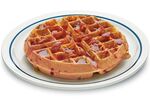 As consumers gobble up Doritos Locos Tacos and Xtreme-flavored Chex Mix, it seems apparent that intense flavors are in. Breakfast restaurant IHOP has decided the best way to intensify waffles is to bake chunky flavor bites into them for a limited-time offering it's calling "Waffullicious Waffles."
The product comes in two versions. The Very Blueberry Cheesecake one is IHOP's regular waffle with blueberries and New York cheesecake pieces baked in, then topped with more cheesecake pieces and blueberry compote. Like other cheesecake-related foods, it's not for dieters: One order contains 750 calories and 33 grams of fat, about 50 percent more of each than IHOP's traditional Belgian waffle. (As a reference, the recommended daily intake for adults is about 2,000 calories and 65g of fat.)
The Bac 'n' Cheddar waffle has "chunks of chopped hickory-smoked bacon and gooey cheddar cheese baked right in," plus more bacon on top. It has 820 calories and 48g of fat. Still hungry? Either waffle can be added to breakfast combos with eggs, meat, and hash browns.
In addition to being really good for you and an innovation in spelling, the waffles are an easy way for IHOP to make something new without much extra work. IHOP kitchens already stock cheesecake, blueberry compote, bacon, and cheddar; the waffles required no new ingredients. (Burger King has similarly taken a minimalist approach to menu innovation.) Here's how the chain describes the Waffullicious preparation process:

Before it's here, it's on the Bloomberg Terminal.
LEARN MORE