Hertz Chief Frissora Steps Down After Missteps, Pressure
Mark Clothier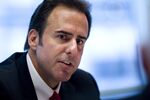 Mark Frissora, chief executive officer of Hertz Global Holdings Inc. stepped down today after investors had pushed for his removal, citing accounting and operational missteps.
Frissora is leaving both the chairman and CEO roles for personal reasons, the Naples, Florida-based company said in a statement. The board appointed Brian P. MacDonald, head of Hertz Equipment Rental Corp., to serve as interim CEO and Linda Fayne Levinson, independent lead director, has been appointed independent non-executive chairman. The board has begun a search for a permanent chief.
Frissora, 59, was appointed CEO in 2006 before Hertz's initial public offering. He oversaw the company's 2012 acquisition of Dollar Thrifty Automotive Group Inc., which shrank the number of major rental-car companies to three from four. Hertz has been unable to capitalize on the pricing power that consolidation created.
The shares of the rental-car company rose 4 percent to $29.60 at 9:32 a.m. New York time. Hertz had slipped 0.6 percent this year through Sept. 5, while Avis Budget Group Inc. gained 64 percent.
Successor Search
Some investors have suggested Scott Thompson, the former CEO of Dollar Thrifty Automotive Group Inc. as a possible successor. At least one has been investigating whether he's the right person for the job, three people familiar with the matter said last month. Thompson, 55, sold Dollar Thrifty to Hertz for $87.50 a share after Frissora initially offered $2.
MacDonald, who worked at Sunoco Inc. and Isuzu Motors Ltd. before joining Hertz's equipment-rental business this year, is also highly regarded.
"We are fortunate to have a proven leader of Brian's caliber and experience to step into the CEO role on an interim basis while the board conducts its search process," Levinson said in the statement.
Hertz hasn't reported financial results from the first or second quarters and has said that it can no longer rely on its past three years of financial statements.
Frissora would be in line for an exit package worth about $14 million if terminated without cause, according to regulatory filings. The board may have negotiated a lower payout. The company didn't immediately respond to question about Frissora's payout.
Investor discontent increased this summer. In August, investor Fir Tree Partners, which held 3 percent of Hertz's shares, urged the company's board to replace Frissora because the firm disapproved of how he's running the car-rental provider.
Fir Tree, which holds 13.8 million Hertz shares, said Aug. 20 Frissora is responsible for accounting and management missteps that have weighed on the shares.
Enter Icahn
Then billionaire Carl Icahn said he wanted to meet with Hertz to discuss accounting issues and operational failures related to the company's underperformance relative to peers and a "lack of confidence in management," according to a corporate filing.
Other investors holding more than 4 percent of Hertz also urged the board last month to replace Frissora, according to people with knowledge of the matter who asked not to be identified because the discussions with Hertz have been private.
Hertz said in August that lead independent director George Tamke was retiring from the board and was replaced by Levinson.
The elevation of Levinson to lead director suggested the Hertz board was looking for someone to sort through the situation and take control, said Jay Lorsch, a corporate governance professor at the Harvard Business School.
"She is tough," he said in an interview. "They were probably looking for someone to take charge. They're picking someone who has both the breadth of business experience and the determination to get it right."
Levinson credited Frissora with strengthening the company.
"During Mark's tenure, Hertz has transformed from a single on-airport car rental brand to a world leading rental car company with a portfolio of brands that reach multiple consumer and business segments both on- and off-airport," she said in the statement.
Before it's here, it's on the Bloomberg Terminal.
LEARN MORE