pursuits
Marvel's Guardians Just Out-Earned the Last Superman Movie
By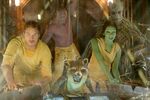 Marvel's Guardians of the Galaxy was the top-grossing movie for the fourth weekend in a row. That's no great surprise. Last weekend was the slowest for Hollywood in two years—at the end of a summer that has been the worst for the movies since 2006— and Guardians has been one of the few theatrical bright spots.
The weekend numbers should be especially unnerving to Marvel's chief competitor: Warner Brothers, owner of DC Comics.
Guardians has now grossed $294 million in the U.S., according to Box Office Mojo. That's more than last year's Man of Steel, Warner Brothers' expensive 2013 Superman relaunch, which took in $291 million domestically. Box Office Mojo sees the triumph of Guardians over Man of Steel as "noteworthy given the discrepancy in pre-existing fan bases for these two superhero movies." To put it another way: The most famous superhero of all time has been dispatched by a once-negligible team of Marvel characters barely known even to avid comic-book fans before the film's opening.
The multiple-weekend victory of Guardians is telling, too. Few movies have such staying power. Box Office Mojo says they include Avatar, the Hunger Games series, and the Dark Knight, Warner Brothers' Batman franchise. Who would have expected such a formidable performance from Guardians, a team of characters that include a wisecracking raccoon and a lumbering humanoid tree?
What does this mean for Warner Brothers? DC is full of wonderful superheroes. But with the exception of Batman, the studio hasn't been able to turn many into sequel-spawning franchises, as Marvel has done with the Avengers and its most popular members, Captain America, Iron Man, and Thor. Warner Brothers is hoping to make a splash in 2016, when it releases the Zack Snyder-directed Batman and Superman: Dawn of Justice. But earlier this year, it rescheduled the film's opening from May to March so that it wouldn't go up against Marvel's third Captain America movie. Since its April release, The Winter Soldier, Marvel's second Captain American film, has taken $260 million in the U.S.
Now Warner Brothers has to worry about a freshly popular team of Marvel superheroes. Maybe it's time to stop banking on Superman and Batman and bring some of DC's lesser characters to the screen. Swamp Thing might do well. After all, if Marvel can do this well with a movie featuring a tree, Warner Brothers might want to respond with a plant superhero.
Before it's here, it's on the Bloomberg Terminal.
LEARN MORE