Duchess of Cambridge Expecting Second Child a Year After George
Eddie Buckle and Emma Ross-Thomas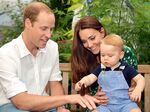 The Duchess of Cambridge, the former Kate Middleton, and her husband Prince William are expecting a second child following the birth of Prince George in July last year.
The duchess, 32, is suffering from hyperemesis gravidarum, or very acute morning sickness, as she did in her first pregnancy, Kensington Palace said in an e-mailed statement today. She is less than 12 weeks pregnant, said a royal spokesman, who asked not to be named in line with policy.
The child will be fourth in line to the British throne. William's father, Prince Charles, is the heir apparent to Queen Elizabeth II, who has been monarch since 1952. William and George are next in line.
Before it's here, it's on the Bloomberg Terminal.
LEARN MORE