Chick-fil-A Founder Dies, Leaving Legacy in Christian Chicken Empire
By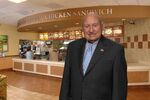 Samuel Truett Cathy, the founder of the Atlanta-based chicken restaurant chain Chick-fil-A, died at 1:35 a.m. Monday at the age of 93.
Chick-fil-A, founded in 1967, took in more than $5 billion in sales last year, making it the country's largest fast-food chicken chain by sales (Yum Brands' KFC has more stores), and the ninth largest fast-food chain of any sort, according to QSR. Cathy had a net worth of $1.9 billion, according to the Bloomberg Billionaires Index.
Cathy, a Southern Baptist who taught Sunday school for more than 50 years, is known for his deep faith, which led to Chick-fil-A's unusual policy of closing all 1,800-plus restaurants on Sundays. "The Closed-on-Sunday policy is reflected in the company's Corporate Purpose: To glorify God by being a faithful steward of all that is entrusted to us. To have a positive influence on all who come in contact with Chick-fil-A," according to materials on Cathy's website (pdf).
"I feel like the food business is like a divine business—we're providing food for life," Cathy said to the Journal Record in 1991. He believed that the company attracted quality people "by giving employees Sunday off as a day for family, worship, fellowship or rest."
These values will not go away: A spokeswoman for the company said Chick-fil-A will remain privately held and closed on Sunday. Truett's son Dan Cathy (whose remarks about gay marriage attracted controversy) has been chief executive of the chain since November and has pledged to uphold his father's business principles.

Cathy came up with the recipe for Chick-fil-A's signature sandwich in the early 1960s. He originally developed Chick-fil-A as a chain of mall restaurants, although at first he had trouble leasing space from mall developers, who believed that eating and shopping would not mix. A year after the first Chick-fil-A opened in Greenbriar Mall in south Atlanta, it had the shopping center's highest sales per square foot, reported Georgia Trend in 1988. The chain didn't open its first free-standing restaurant until 1986.
As for business ethics, "I believe no amount of business school training or work experience can teach what is ultimately a matter of personal character," Cathy said on his website. Cathy also reflected on business, success, and faith in several books, including: It's Easier to Succeed Than to Fail; Wealth. Is It Worth It?; How Did You Do It, Truett?; Eat Mor Chikin: Inspire More People; It's Better to Build Boys than Mend Men; and The Generosity Factor.
Before it's here, it's on the Bloomberg Terminal.
LEARN MORE