California's Brown Turns Foes to Friends in No. 1 Economy
Michael B. Marois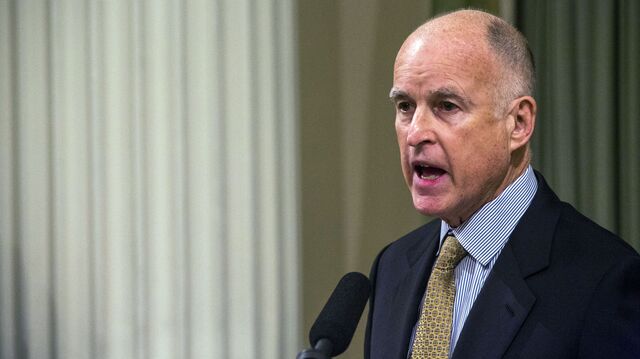 By the time Jerry Brown returned to the California governor's office for a third term, he had as Oakland's mayor eschewed affordable housing for $1 billion in downtown development and as attorney general sued the biggest U.S. mortgage lender for stoking the financial crisis.
Through those roles, two prior terms as chief executive and a tenure as secretary of state, the 76-year-old Democrat has emerged as the nation's most experienced governor. Brown, who once trained to be a Jesuit priest, says he's learned after four decades in political office to embrace pragmatism, anticipate challenges long in advance and accept that too many variables exist in any situation to try to ride any one to success.
"It takes many factors," Brown said in an interview with Bloomberg News at his San Francisco office. "As Machiavelli said, fortuna e virtù. Virtù is skill. Fortuna is good fortune. You have to have both of those."
Again at the helm of the nation-sized state and up for re-election, Brown has shown bipartisanship can work in Sacramento, even as it fails in Washington, as he steers California to projected surpluses from record deficits. He won almost unanimous votes on $7.5 billion of bonds for projects to battle an historic drought and on a rainy-day reserve fund to cushion against economic downturns.
Economic Viewpoints
"I anticipate," Brown said in the Sept. 5 interview. "I look at issues that can then put me in position later on, when I'm going to have to do something else. You can call it building coalitions but underneath all of that is a lot of very specific, unique ideas and bills and actions and personalities and those have to be seized."
The prior evening, Republican opponent Neel Kashkari attacked the incumbent's record on the economy in their first and only scheduled televised debate in an election that the Field Poll shows Brown is leading, 50 percent to 34 percent.
"I think Governor Brown means well, but his 40 years in government have left him out of touch with the struggles of working families," said Kashkari, 41, a former Goldman Sachs Group Inc. executive who went on to manage the U.S. Treasury's $700 billion bank rescue known as the Troubled Asset Relief Program in 2008. "He's declared a California comeback, yet the middle class is all but destroyed."
Agriculture, Technology
Brown paints the opposite picture of the economy of the most-populous U.S. state, saying during the debate it's expanded to the eighth largest on the planet from ninth. The value of goods and services produced grew to $2.2 trillion in 2013, surpassing the economies of Russia and Italy. The figure for Texas, the second-biggest state, is $1.5 trillion.
The percentage of Californians who believe the state is headed in the right direction is more than three times what it was in the last year of Republican predecessor Arnold Schwarzenegger's term, according to a Field Poll in June. Unemployment of 7.4 percent compares with 12.2 percent when Brown took office.
California leads its peers by almost any economic measure, according to data compiled by Bloomberg. Agriculture produced $21.4 billion in revenue in 2012, three times more than the $6.8 billion in second-ranked Iowa. California technology companies took in $673 billion in revenue in the last 12 months, representing 51.4 percent of sales for all of the U.S. The value of manufacturing in California climbed 8 percent to $204 billion in 2012, compared with a 7.4 percent increase in Texas to $176 billion.
'Inner Republican'
California's credit rating was raised in June to the highest level since 2001 by Moody's Investors Service, lifted one step to Aa3, the fourth level of investment grade, from A1.
"I tease him sometimes that he is channeling his inner Republican," said Republican Assemblywoman Connie Conway, who has served as leader of her party's caucus, speaking of Brown. "The governor, at this phase in his life, would really like to be known for fiscal conservatism."
Brown doesn't always prevail, as California's loss last week of a Tesla Motors Inc. battery plant to neighboring Nevada shows. The Palo Alto-based electric-car company will build the factory east of Reno after Nevada offered $1.3 billion in tax incentives. Brown said Tesla wanted a "massive cash upfront payment" that he wasn't willing to pay.
Beyond the Tesla decision, Republicans and some business groups contend Brown isn't doing enough to foster and retain business in California. Taxes are too high and the regulations in the state too burdensome, they say.
High-Speed Rail
While Brown has made frugality a centerpiece of his administration, gesturing during the interview to rows of empty desks as evidence of his dodging bureaucracy, in June he signed the largest budget in the state's history, at a record $156.4 billion, a 19 percent increase since he took office.
Brown champions a $68 billion high-speed rail line that's also unpopular among Republicans. Brown said in the debate that rail is cheaper and more environmentally friendly than building more roads and airports. Work for the first phase of the line has already begun. Republicans lack the votes to stop it.
The son of Edmund "Pat" Brown, California's governor from 1959 to 1967, Jerry Brown was elected secretary of state in 1970. He won the state's highest office four years later. While Brown gained celebrity, dating rock star Linda Ronstadt, with whom he graced the cover of Newsweek in April 1979, he also attracted ridicule for promoting policies such as a state-sponsored space program.
'Governor Moonbeam'
"He was Governor Moonbeam, child of the '60s," said Marc Benioff, chief executive officer of San Francisco-based software company Salesforce.com Inc. "He doesn't believe in separation between parties or even separation between human beings. It's allowed him to govern in an effective way."
As governor in the 1970s, Brown shunned the official mansion and predecessor Ronald Reagan's Cadillac limousine in favor of an apartment near the Capitol and a Plymouth Satellite he drove himself.
"He has the Zen aesthetic," said Benioff, who said he has known Brown for years. "He doesn't want to own anything, spend anything or have anything."
As Brown looks forward to an unprecedented fourth term, he increasingly views his perch in California as akin to running a nation-state. Before the interview, Brown entertained the Japanese Ambassador to the U.S., Kenichiro Sasae, signing an agreement for collaboration on climate change, renewable energy, trade and investment, high-speed rail and water. Brown said he's headed to New York later this month to participate in a United Nations conference on global warming and will speak at a World Bank luncheon.
Saying No
Developing an agenda for another term won't be a challenge because he has a "whole bank of ideas from 30 years ago" yet to be fully realized that he can work on.
"The great challenge for the next four years will be to say no, to keep our budget in line without so alienating those who feel the spending claims are absolutely required for a decent society," he said.
It was during Brown's first term in office that voters in California passed Proposition 13, capping real estate taxes at 1 percent of a property's assessed value and limiting increases on assessed value to 2 percent a year, unless the real estate changes hands. Almost two-thirds of California voters approved the measure in 1978, marking the beginning of a national tax revolt that presaged the election of Reagan as president two years later.
Proposition 13
Supporters credit Proposition 13 for establishing predictable, manageable and fair property tax rates that kept the elderly and people on fixed incomes from losing their homes. Opponents blame the caps for distorting property markets and strangling public schools and universities for money.
Brown said in the interview he has thought about what he might have done differently to stem the rise of anti-tax sentiment that led to Proposition 13. Passage of the measure and its effect on his state, he said, has been a source of introspection that informs his thinking to this day.
"It would have taken action, not six months before but probably two and half years before," Brown said. "If I had known what was going to happen with Prop 13, I would have taken a more strenuous action because then it wouldn't have looked so hard. It would have looked easy relative to 13 and all it brought."
He reads voraciously, from philosophers such as Leo Strauss and Friedrich Nietzsche to the Italian 15th century political strategist Niccolo Machiavelli and ancient Chinese theorist and army general Sun Tzu, author of "The Art of War."
Sun Tzu
Over the years, Brown says, he has learned to analyze the political field carefully before he acts.
"Win without fighting," he said, citing Sun Tzu. "Defeat your enemies with strategy. Know the terrain, know your enemy, know yourself. Yeah, I read Sun Tzu, not that carefully, but I've tried to divine what the hell he's talking about and those principles and whether they mean anything, whether any of these explanations mean things. We always feel more comfortable if we can explain things."
His political adversaries have noticed.
"He gets things pretty quickly," said Republican state Senator Anthony Cannella. "The governor has shown his willingness to reach out to everyone, regardless of party affiliation, to forge a compromise."
Brown's philosophies are also shaped by his travels. He studied Buddhism in Japan and worked with Mother Teresa in India.
Rebuilding Oakland
He ran unsuccessfully for president in 1976, 1980 and 1992. Brown was elected mayor of Oakland in 1998 and California's attorney general, the state's top law-enforcement official, in 2006.
During his eight years as mayor of Oakland, Brown spearheaded development of the city's decaying downtown, promising to bring 10,000 new residents to the city. He fought efforts that would have required some of the homes built in new developments to be sold as affordable housing. His initiative, known as 10K, is credited by some with bringing in an estimated $1 billion in investments into Oakland.
"I said we have to build things," Brown said. "We got to get condos and not affordable stuff. I want people with disposable income.
''What I found is that nearly every project I proposed was objected to by a very small number of people because of the height and because it would be out of character with the neighborhood and because of this and because of that,'' he said. ''To see the use of environmental and neighborhood values in such a counter-productive way, from my point of view, made me more skeptical of claims that are now made in the name of the environment or any value, because it's always apple pie and motherhood, but they are against everything.''
Charter Schools
Another of Brown's promises when he took office in Oakland was to fix the city's failing schools, a goal he acknowledges he wasn't able to fulfill to his satisfaction. Instead, he built two charter schools, including a military academy.
''I wanted discipline," he said. "I wanted the Army in the classroom, uniforms, marching, yes sir. I wanted to recreate the Catholic school of the 1950s. When I went to school at St. Ignatius High School, Eisenhower was president and Pius XII was the pope and we had a Republican, Elmer Robinson, as the mayor of San Francisco. This was a world that worked and it worked well."
After leaving the Mayor's office, Brown ran to become attorney general, a job in which he defended the state's death penalty even though he said he personally opposed capital punishment. He won a fraud settlement from mortgage lender Countrywide Financial Corp., acquired by Bank of America Corp. in 2008, that included a pledge to pay more than $8 billion to mortgage borrowers.
Extending Taxes
Brown returned to the governor's office in 2011 by defeating former EBay Inc. Chief Executive Officer Meg Whitman, who spent $140 million of her own money on her campaign and later became CEO of Hewlett-Packard Co.
One of Brown's first official actions, he said, was to ask lawmakers to put a measure on the ballot asking voters to extend more than $7 billion of temporary tax and fee increases put in place by Schwarzenegger that were about to expire. Brown said the money was needed to close a $25 billion budget gap.
Sending the measure to voters required two-thirds votes in both houses of the legislature. While Democrats controlled the two chambers, they were four votes short of the needed super-majority.
'Wined Them'
"I met with them," he said. "I met with them on Sunday. Met them at their homes. I had them over to my loft. I wined them. I met their wives."
Brown enlisted his own spouse, former Gap Inc. executive Anne Gust, in the effort. The couple showed up at a Republican fundraiser that included a "wild game feast." They ordered wine and mingled with the guests for hours, he said.
In the end, Brown said, he couldn't persuade enough Republicans to support sending the tax measure to the ballot.
"I spent a lot of time, and I failed," he said. "However, I built a relationship."
Brown has enlisted Republicans to help approve emergency prison spending and an overhaul of school financing that was opposed by members of his own party. He used line-item vetoes to strip $38 million out of the last state budget, which added $1.6 billion to the reserve fund, the first deposit since 2007.
Building Trust
In the past two years, Brown has hosted eight informal dinners with groups of lawmakers at the state's historic governor's mansion, now a museum. Brown called the events "breaking bread." He rejected individual tables in favor of picnic-style seating arrangements in which everyone could mingle closely. During the first few meetings, he asked each lawmaker to tell his or her life story to the group.
"That kind of stuff breeds trust and when you trust somebody, you are willing to go a lot further when you are dealing with policy issues," said Cannella, the Republican senator. Cannella said Brown invited him last year to help draw up a compromise on legislation to overhaul enterprise zones in the state.
Last month, Brown again called on the relationships he had been crafting. Time was running out to qualify a measure for the statewide ballot asking voters to approve a bond issue to upgrade the state's aging water infrastructure.
Brown and most lawmakers agreed that an $11 billion water bond measure which Schwarzenegger had negotiated in 2009, loaded with what Brown called pork-barrel spending, was too expensive and wouldn't win approval from voters.
Partisan Disagreement
The issue of how to trim the bond package and make it more palatable was mired in partisan disagreement. Republicans have long wanted more money spent to build reservoirs and water storage. Democrats' ranks had grown to fulfill the required two-thirds majority to place the bond issue on the ballot without Republican support.
Then three Democratic senators found themselves in legal trouble, and the party's supermajority was gone.
Brown began recruiting Republicans. At first, he proposed a $6 billion bond issue his adversaries dismissed, saying it didn't provide enough money for reservoirs.
With the deadline for filing for the ballot hours away, Republican Bob Huff, the Senate Minority Leader, brought his party's caucus to Brown's first-floor office. There, they were seated on benches around a conference-style wooden table, and Brown went around the room asking each lawmaker their thoughts.
Unanimous Passage
"I felt it was important for the governor to hear the concerns of my members directly, and to his credit, even though it was late at night, he came in and engaged them all," Huff said. "The governor, at the end of the day, listened to us," and amended the measure to provide more for water storage.
The next day, the legislation passed unanimously in the Senate.
Conway, the Republican leader in the State Assembly, recalls that in 2010, shortly after Brown won the right to return to the governor's office, she ran into him during a meeting with former Assembly Speaker John Perez, a Los Angeles Democrat.
"He said to me, he has to get to know my caucus, so he knows which ones he can pick off," Conway said. "I said, 'Oh, that's funny, governor.' I said, 'Hey, I'm taking a whole bunch of them to dinner tonight.' And you know what? He showed up!"
Before it's here, it's on the Bloomberg Terminal.
LEARN MORE