Ravens Terminate Rice Contract as NFL Suspends Indefinitely
Michael Buteau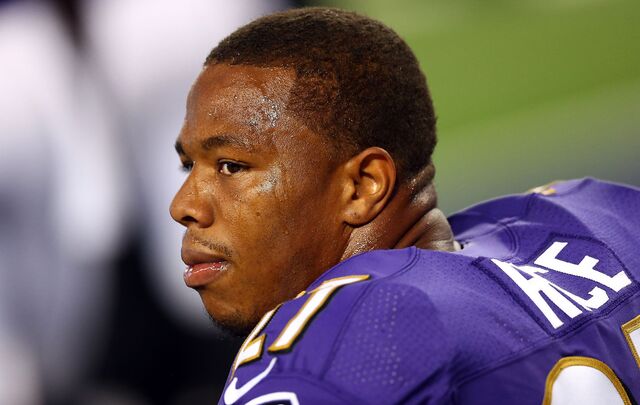 The Baltimore Ravens terminated the contract of Ray Rice and the National Football League suspended the running back indefinitely after video emerged appearing to show him punching his wife in an elevator.
Rice, who was in the third year of a five-year, $35 million contract with Baltimore, was arrested Feb. 15 after getting into an altercation with Janay Rice, who was then his fiancee, in Atlantic City, New Jersey. While video at the time showed the 218-pound, two-time All-Pro dragging her out of a casino elevator, the footage from inside the elevator showing him striking her didn't appear until today.
"They had no choice but to let Ray Rice go," former New York Giants quarterback Phil Simms said on a media conference call. "The video was so graphic, so alarming that you figured something like this might happen."
Rice was suspended for two games in July after the NFL said it had reviewed all evidence in the case, including video. The league said today it hadn't seen the latest video before it sanctioned the running back.
"We requested from law enforcement any and all information about the incident, including the video from inside the elevator," NFL spokesman Brian McCarthy said in an e-mail. "That video was not made available to us, and no one in our office has seen it until today."
'Right Thing'
Former Pittsburgh Steelers coach Bill Cowher said the Ravens "did absolutely the right thing" in releasing Rice.
"As a father of three daughters, it was inexcusable and very disturbing," said Cowher, now an analyst with Simms on CBS network. "There is no way you want to condone that, even by having that person in your building."
Rice was suspended for violating the league's personal conduct policy, under which a player doesn't have to be found guilty of a crime to be disciplined by the league.
"As a man I am disgusted," former New York Giants center Shaun O'Hara, who now works as a television analyst on NFL Network, said on Twitter after the release of the video and before the Ravens announced Rice's termination in a one-sentence statement. "As former NFL player I am ashamed by the handling of this by the league. Despicable."
Following criticism of its role in the incident, the NFL on Aug. 28 said it will suspend players for six games for first offenses of domestic violence and sexual assault. Players would be banished from the league for a subsequent violation.
Criticism of Rice's punishment was renewed after Cleveland Browns wide receiver Josh Gordon's season-long ban for what ESPN said was a positive marijuana test was upheld by an arbitrator.
Before it's here, it's on the Bloomberg Terminal.
LEARN MORE