Serena Williams Strikes Gold at U.S. Open With 18th Grand Slam
Erik Matuszewski and Mason Levinson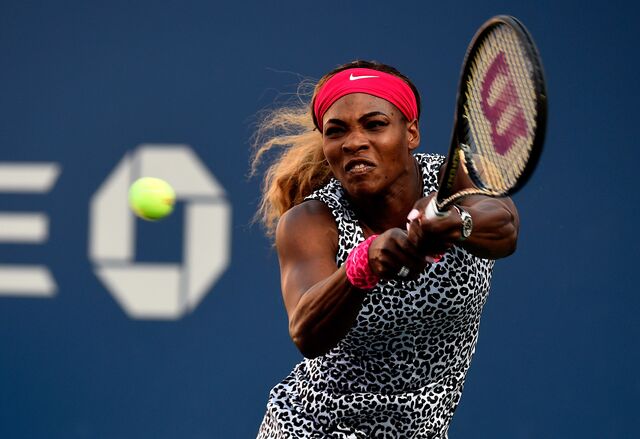 Serena Williams continued rewriting the tennis record book, and she was wearing the proof.
Williams, who beat Caroline Wozniacki in straight sets yesterday to claim her third straight U.S. Open title, spent part of the night admiring her new Tiffany & Co. bracelet. Adorned with the number "18" and made with 18-karat gold, it was presented to her by Martina Navratilova and Chris Evert for securing her 18th Grand Slam singles title, tying them for second most in the professional era that began in 1968.
"I'll see if I can play with it," Williams said at a news conference, with the bracelet on her left wrist and the U.S. Open trophy by her side. "I'm not sure if I can."
The victory, her sixth at the National Tennis Center in New York, also tied Williams with Evert for the most in the professional era.
"I just could never have imagined that I would be mentioned with Chris Evert or with Martina Navratilova, because I was just a kid with a dream and a racket," said Williams, who grew up in an inner-city area of Los Angeles. "Living in Compton, you know, this never happened before."
Williams, the 32-year-old women's top seed, beat the 10th-seeded Wozniacki 6-3, 6-3, joining fellow American Evert (1975-78) as the only women in the professional era to win at least three straight championships in New York.
Williams had 29 winners in the 75-minute match with Wozniacki, who had four -- three of which came on aces.
Second Loss
Denmark's Wozniacki, a 24-year-old who's spent 67 weeks atop the world rankings during her career, falls to 0-2 in Grand Slam finals, with her other loss coming at the 2009 U.S. Open to Kim Clijsters of Belgium.
"I went out a bit nervous, and playing a champion like Serena you have to go for it from the start," Wozniacki said at a news conference. "Today, she was just too good."
The previous woman with three straight wins in any major was Justine Henin at the French Open from 2005-07.
It's the first Grand Slam title of the year for Williams, who has won a WTA Tour-best six tournaments in 2014 and tops the world rankings -- yet failed to reach the quarterfinals at the Australian Open, French Open or Wimbledon.
"I definitely did not think I was going to win a Slam this year," Williams said. "And I even said I'm ready to start next year already. Let's put this behind me."
Rest Period
After losing in the third round of Wimbledon, she spent 10 days practicing less than she had been -- in order to give herself a mental break.
"At that moment I also realized I just needed to relax a little more," she said. "I put a lot of pressure on myself."
The change paid off, as Williams gets $3 million for the win, along with a $1 million bonus for clinching the U.S. Open Series title based on tournaments leading up to the New York event. That extends her women's record on-court career earnings to $60.9 million.
Williams, who turns 33 in less than three weeks, is the oldest women's winner at the season's final Grand Slam since Sarah Palfrey Cooke in 1945 at age 33. The 15-year span between this title and Williams's first, in 1999, is the longest in U.S. Open history, surpassing the 14-year gap between Ken Rosewall's championships in 1956 and 1970.
Margaret Court
Australia's Margaret Court won a record 24 majors from 1960 to 1973, while Helen Mills of the U.S. won 19 from 1923 to 1938.
Since losing at Wimbledon in late June in London, Williams has reasserted her dominance on the women's tour with a 19-1 record. After winning hard-court titles in Stanford, California; and Cincinnati, she entered the year's final Grand Slam as a 7-4 oddsmakers' favorite.
Williams also won U.S. Open titles in 2002, 2008, 2012 and 2013, making it her most successful Grand Slam. She has won five titles each at the Australian Open and Wimbledon, along with two at the French Open. In the professional era, Steffi Graf is the only woman to win more majors, with 22.
Asked if she was thinking about a new challenge in the tennis record book -- Graf's 22 slams -- Williams said no.
"I am thinking about 19, which I'm kind of disappointed, it hasn't even been three hours and I have already mentioned 19," she said. "But not 22. I'm taking it one at a time."
Before it's here, it's on the Bloomberg Terminal.
LEARN MORE