Sweden's Election Hinges on 135,000 Voters as Race Tightens
Johan Carlstrom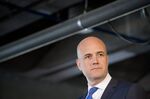 Swedish voters are now less likely to oust the government of Prime Minister Fredrik Reinfeldt on Sept. 14 than they were just a week ago.
The Social Democrat-led opposition's lead has narrowed to 4.5 points in the latest poll by Sifo -- the smallest difference since May last year -- from 7.3 points a week earlier and 9.8 a month earlier. The shift toward the government follows presentations by the main parties revealing their policy goals for the next four years.
"We're talking about 135,000 voters for things to become completely even, and that's of course not a huge number," said Toivo Sjoeren, head of opinion research at TNS Sifo in Stockholm, by phone. He says history indicates that even after narrowing, the margin remains too wide for Reinfeldt to be re-elected. "On the other hand, you actually never know."
The poll is one of only three to include voter responses to the election manifestos unveiled last week by the government and Social Democrats. The two other parties that make up the opposition bloc have yet to reveal their plans, a development Reinfeldt has used to sow doubts in the minds of voters.
"A lot of people have indicated that they're still uncertain, and in that sense it's an open race," Reinfeldt told reporters on Sept. 6. "I'm completely convinced that we can still change people" and "I will fight to do that all the way until the polling booths close."
A poll by Demoskop for newspaper Expressen conducted after a debate on broadcaster SVT yesterday showed voters gave Reinfeldt a grade of 3.67 versus 3.37 for Loefven.
Reinfeldt's Legacy
The Sifo poll, conducted Sept. 1-4 and with margins of error from 1.3 to 3.4 points across parties, showed 40.5 percent of voters back Reinfeldt's coalition, which has provided Swedes with successive rounds of income tax cuts since taking office in 2006. It has also steered the largest Nordic economy through the global financial crisis without breaching the European Union's budget or debt rules. The AAA-rated country in 2012 became a haven for risk-averse investors fleeing the turmoil ravaging bond markets further south.
Yet Swedes have grown weary of tax cuts perceived to have eroded the country's welfare base. The Social Democrats, led by Stefan Loefven, say they want to reverse almost one-third of Reinfeldt's roughly 130 billion kronor ($18.3 billion) in corporate and income tax cuts. The party plans to spend the extra money on education, more public sector jobs and more generous jobless and sick-leave benefits.
Tax Burden
Swedes, who already pay one of the world's highest tax burdens at about 45 percent of gross domestic product, are still waiting for a unified opposition proposal on taxes and other measures. The Left Party, which backs Loefven, wants even more tax increases than the Social Democrats. Loefven has said there won't be a joint manifesto before the election.
"What's good for the government is that the Sifo poll gives them an opportunity to mobilize, ignite the enthusiasm of their supporters that perhaps had given up hope," said Ulf Bjereld, a professor at Gothenburg University. "The next polls that will be published will be very important because they will show if the Sifo survey captured any change in sentiment or if the Sifo survey was just a fluke."
Reinfeldt's ruling coalition has managed to turn what looked like certain defeat into victory before, albeit over a longer timeframe. In 2010, Reinfeldt turned a 5 point poll deficit into a 5.7 point election win in just six months. That followed the opposition's presentation of its first ever joint manifesto, a move that the Social Democrats later said backfired after voters grew concerned over planned tax increases on petrol and properties.
Split Opposition
Signs of disagreement within the opposition may become a recurring theme this year after the bloc split on issues as wide-ranging as nuclear power, the environment, health care and education. Adding to the uncertainty is the Sweden Democrats, whose plans to restrict immigration have left it a pariah in the legislature. The recent Sifo poll showed 10.4 percent of voters back the party. That makes it unlikely that either the opposition or the government will make it to 50 percent.
The election result "depends very much on the agenda in the final week, what they talk about," Sjoeren said. "If they talk more economy, foreign policy, more defense issues that will benefit the government. If they talk more about welfare issues, elderly care, health-care that will benefit the opposition."
Still, average poll data show the opposition is set to win. Some 47.1 percent of voters back the three-party bloc, according to an average of polls published by Novus Opinion. The same study showed the government getting 38.5 percent.
"It's extremely unlikely" that the government will win the elections, Bjereld said. Still, "there are those who believe that miracles can happen every now and then, so you can't completely exclude the possibility."
Before it's here, it's on the Bloomberg Terminal.
LEARN MORE