Obama to Woo Skeptical Allies in Islamic State Offensive
David Lerman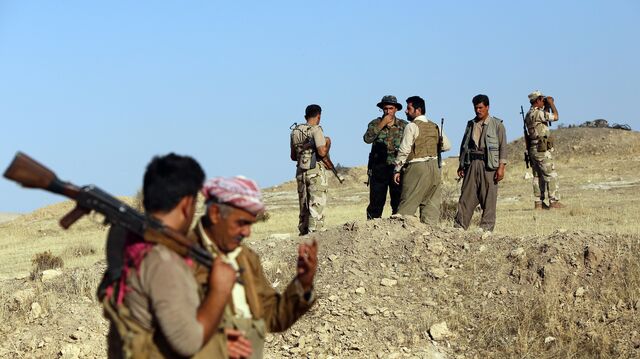 President Barack Obama says he can rally Sunni Arab states to help him defeat Islamic State militants in Iraq and Syria because "this is their neighborhood."
The complex politics of that neighborhood mean it won't be an easy sell, said Ramzy Mardini, an analyst with the Atlantic Council, a Washington policy group.
"Obama doesn't seem to get it," Mardini said in an e-mail. "No Arab leader wants to publicly join hands with the 'Great Satan' and 'Crusaders' in fighting a war in the Middle East."
While Arab leaders could be helpful in the right circumstances, "the tension lies in the U.S. wanting a public role for Arab states, and the Arab states preferring a private role," Mardini said. "The Arabs are worried about internal blowback."
As he prepares to lay out his strategy to a war-weary American public this week, Obama emphasized the importance of working more closely with Arab partners, as he again ruled out putting U.S. troops in ground combat.
"We're going to need Sunni states to step up, not just Saudi Arabia, our partners like Jordan, the United Arab Emirates, Turkey," Obama said in an interview broadcast yesterday on NBC's "Meet the Press." He said he would explain his plan in a meeting with congressional leaders tomorrow and in an address to the nation on Sept. 10.
Kerry Dispatched
Obama is dispatching Secretary of State John Kerry to the Middle East this week to make the case for a united Arab front against the Sunni extremists of Islamic State, while Defense Secretary Chuck Hagel will travel to Turkey, a NATO ally that borders Syria.
Even NATO allies are treading cautiously. While the U.S. won support from nine countries on the sidelines of a North Atlantic Treaty Organization summit in Wales last week to combat Islamic State militants, there was no firm commitment to wage a coordinated military campaign against the radical Sunni insurgency.
France and the U.K., which have discussed joining the U.S. in airstrikes, stopped short of promising warplanes, according to officials from both countries.
Nor can U.S. allies devote all their attention to Islamic State at a time when they also must wrestle with challenges from Russia's intervention in Ukraine and the unraveling political fallout from disputed elections in Afghanistan.
'Big Enterprise'
"This is a big, big, big enterprise the United States is embarking on," said Richard Haass, a veteran diplomat and president of the Council on Foreign Relations, who spoke on CNN's "Fareed Zakaria GPS."
With no American troops on the ground, the U.S. will be dependent on the creation of a "pan-Arab force" or a strengthened moderate opposition in Syria to defeat the Islamic State militants, Haass said.
"The principal challenge in getting active Arab state participation against IS is a reluctance on the part of those states to support what they regard as the wrong side of sectarian civil wars," said Paul Pillar, a former national intelligence officer for the Near East and South Asia at the Central Intelligence Agency.
Sunni-led states such as Saudi Arabia may be reticent to be seen "helping a Shiite-dominated regime in Iraq and an Alawite-dominated regime in Syria," Pillar, now a professor at Georgetown University, said in an e-mail.
Mission 'Limited'
For that reason, Obama has said he will approve only "limited" airstrikes over Iraq until a new, more inclusive government is formed under Prime Minister-designate Haidar Al-Abadi. Iraq's parliament will meet today to vote on a new cabinet, the office of the parliament's speaker said in a statement.
Kerry and Hagel face a complicated political landscape in their travels.
Turkey, whose help the U.S. needs to slow the flow of foreign fighters and oil smuggling along its Syrian border, may be cautious because Islamic State is holding 49 people hostage after seizing a Turkish consulate in Iraq in June.
U.S. relations with Saudi Arabia, a key Persian Gulf ally, are particularly fraught since the Obama administration decided a year ago not to punish Syrian President Bashar al-Assad for his regime's use of chemical weapons by bombing Syrian government forces.
Obama 'Disaster'
"As the Saudis see it, Obama has been a disaster in the Middle East," said Ken Pollack, a Middle East analyst at the Brookings Institution in Washington. "So the first challenge for the president will be convincing the Saudis and the other Gulf states that he is somehow different now from the president he has been for the past six years," Pollack said in an e-mail.
Obama said he's hopeful he can build a broad coalition in the region partly because Sunni states are beginning to recognize that Islamic State "is the biggest danger that they face right now. And with that understanding, it gives us the capacity for them to start getting more active and more involved."
Jon Alterman, director of the Middle East program at the Center for Strategic and International Studies in Washington, said Saudi Arabia could play a key role in discrediting Islamic State because of the kingdom's leadership position among Muslim states. The kingdom also has "considerable intelligence assets" that could be used to give the U.S. "unique insights" into Islamic State and its leaders, he said in an e-mail.
Saudi Legitimacy
While the Saudis don't want to strengthen Syria's Assad, "the more proximate threat is to their legitimacy as leaders of the Muslim world," which Islamic State militants threaten, he said.
Pollack and other analysts said Sunni states such as Saudi Arabia will need assurances that a campaign against Islamic State won't wind up giving Shiite-led Iran significant new influence.
"Saudi Arabia will only support multinational action against the Islamic State if it can guarantee a role for itself in Syria and Iraq after the group is defeated," Lina Khatib, director of the Carnegie Middle East Center in Beirut, Lebanon, wrote in a Sept. 3 essay on its website.
"The eradication of the Islamic State without alternatives to the Assad regime and to a Shia-dominated government in Baghdad would mean the survival of Iran's two allies in those countries," she wrote.
Public Weary
Obama also faces a challenge at home, as he tries to win backing for a stepped-up military offensive from an electorate weary from a decade of war. Polls show Americans support U.S. airstrikes against Islamic State militants, even as they fear the U.S. will become too involved. Support for action may grow after the release last week of a video showing the second beheading of an American journalist by Islamic State.
While Obama's speech this week may help placate some members of Congress who have urged him to lay out a concrete strategy, lawmakers also could complicate Obama's plans by insisting on a new vote to authorize increased military engagement.
Senator Bill Nelson, a Florida Democrat on the Armed Services Committee, said last week that he will introduce legislation leaving "no doubt" that Obama has authority to order airstrikes in Syria, an option Obama has left open but didn't address in his NBC interview.
Representative Adam Smith of Washington, the top Democrat on the House Armed Services Committee, said yesterday on ABC's "This Week" program that while Obama has the authority he needs, "I do think it would be better if Congress would authorize it."
Lawmaker 'Buy-In'
Obama, in his interview, said, "I'm confident that I have the authorization that I need to protect the American people. And I'm always going to do what's necessary to protect the American people. But I do think it's important for Congress to understand what the plan is, to have buy-in, to debate it."
"Clearly, he's put together a coalition of the willing -- we have heard that before -- to tackle this problem," Representative Mike Rogers, chairman of the House Intelligence Committee, said on CNN, invoking the phrase used by President George W. Bush to mount an invasion of Iraq. "That's good. But we need to be aggressive in posturing ourselves to get ready for this."
Before it's here, it's on the Bloomberg Terminal.
LEARN MORE