Hawks Owner Levenson to Sell Team as NBA Probes E-Mail
Eben Novy-Williams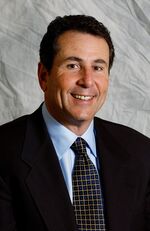 Atlanta Hawks owner Bruce Levenson will sell his controlling interest in the National Basketball Association franchise as a result of a 2012 e-mail he wrote that he called "offensive," "inappropriate" and racially insensitive.
In the e-mail, which Levenson reported to the NBA in July, the owner examines why the Hawks have difficulty drawing white season-ticket holders. Levenson said today in a statement that the e-mail "trivialized our fans by making cliched assumptions about their interests (i.e. hip hop vs. country, white vs. black cheerleaders, etc.) and by stereotyping their perceptions of one another (i.e. that white fans might be afraid of our black fans)."
The Hawks are the first NBA team to hit the market since the Los Angeles Clippers sold for a league-record $2 billion after former owner Donald Sterling made racist comments. The Hawks in January were valued at $425 million by Forbes magazine.
NBA Commissioner Adam Silver, who took office in February, less than three months before Sterling's comments were made public, said today in a statement that the league was in the process of an independent investigation of Levenson's comments when the owner said he would sell.
'Entirely Unacceptable'
"As Mr. Levenson acknowledged, the views he expressed are entirely unacceptable and are in stark contrast to the core principles of the National Basketball Association," Silver said. "He shared with me how truly remorseful he is for using those hurtful words and how apologetic he is to the entire NBA family –- fans, players, team employees, business partners and fellow team owners – for having diverted attention away from our game."
Hawks Chief Executive Officer Steve Koonin will oversee team operations during the sale process.
Levenson is the co-founder and partner at United Communication Group, a Gaithersburg, Maryland-based publishing and media company created in 1977. He and others in a group called Atlanta Spirit LLC, purchased the team in 2004.
The Clippers were sold last month to former Microsoft CEO Steve Ballmer, which closed about 16 weeks after website TMZ published an audio file of Donald Sterling making racist comments to a female acquaintance. In those four months, Sterling was fined and banned by the NBA, booted from the family trust that owned the team, and lost a court battle against his wife surrounding the legality of their sale.
In the aftermath of Sterling's comments being made public, Silver said the NBA had no tolerance for racist comments. The league also enhanced its anti-harassment and anti-discrimination policies, making it mandatory for all league and team personnel to receive annual training.
'Maximum Penalty'
Prior to Silver's first comment, Levenson went on an Atlanta radio station and said that if the recording was Sterling's voice, he deserves the "maximum penalty," according to USA Today.
In the e-mail, sent two years earlier to team General Manager Danny Ferry, Levenson noted that while looking into why the team's season-ticket base was so small, he was told that they couldn't get 35-55 year-old white fans and corporations to buy tickets.
He then wrote that when he took over the team fans at Hawks' home games were 70 percent black people and the arena bars had 90 percent blacks; the cheerleaders were black; the music, including post-game concerts, was hip hop or gospel; and that there were few fathers and sons at the games.
New Music
"My theory is that the black crowd scared away the whites and there are simply not enough affluent black fans to build a significant season ticket base," Levenson wrote. "Please don't get me wrong. There was nothing threatening going on in the arena back then. I never felt uncomfortable, but I think southern whites simply were not comfortable being in an arena or at a bar where they were in the minority."
Levenson also said that he asked the team to add white cheerleaders and play music known to 40-year-old white men.
"If you're angry about what I wrote, you should be," Levenson said today. "I'm angry at myself, too. It was inflammatory nonsense. We all may have subtle biases and preconceptions when it comes to race, but my role as a leader is to challenge them, not to validate or accommodate those who might hold them."
The Hawks haven't been to an NBA Finals since the franchise moved to Atlanta from St. Louis before to the 1968-69 season. The team has made the playoffs each of the last seven years, never advancing past the second round.
In the past 14 seasons, the team has never finished higher than 18th in attendance.
Before it's here, it's on the Bloomberg Terminal.
LEARN MORE