Cease-Fire Bond Rally Sparks Nervous Market Cheer: Russia Credit
Vladimir Kuznetsov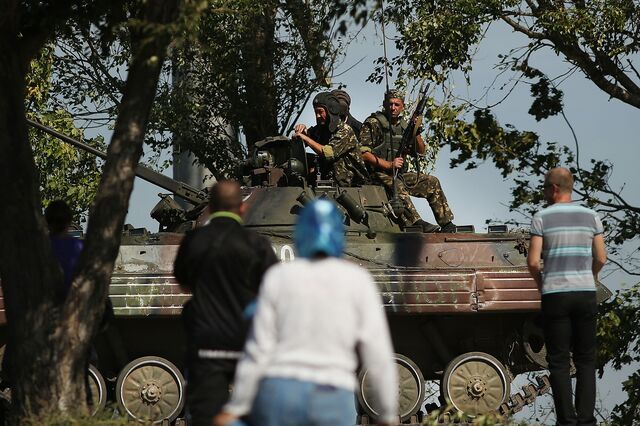 Russian bonds rose last week for just the second time since June on optimism a cease-fire accord in Ukraine will de-escalate the crisis with the U.S. and Europe.
Yields on the government's 10-year debt slid 29 basis points in the five days to 9.51 percent. That compares with a four basis-point drop for similar-maturity securities of Brazil, their fifth weekly gain. The ruble climbed, sovereign-credit risk tumbled and the Micex Index of stocks extended the biggest weekly rally in more than five months.
Ukraine and pro-Russian separatists announced a halt in fighting on Sept. 5 and Presidents Vladimir Putin and Petro Poroshenko agreed the Organization for Security and Cooperation in Europe will monitor the pact. U.S. and European sanctions are pushing Russia toward its first recession since 2009, while inflation is quickening after President Vladimir Putin implemented a retaliatory import ban.
"It seems like they're moving toward peace, but it will be a nervous process," Dmitry Postolenko, a money manager at Kapital Asset Management in Moscow, said by e-mail. "In the long term everything is still rather dire for the bonds. Inflation is high and the economy is not growing. But in the short-term they can go up, and by a lot, on political news."
'Long-Term Costs'
Even after the rally, 10-year local-currency bond yields remained 115 basis points higher than at the start of July as stiffer U.S. and European Union sanctions against Russian companies and banks in the following weeks triggered a selloff in the nation's assets. The Finance Ministry pulled its seventh bond auction in a row last week, citing "unfavorable" market conditions.
Russia's $2 trillion economy is struggling with the weakest pace of growth in five years, while inflation accelerated to 7.6 percent last month, outstripping the central bank's 5 percent target. Central bank Chairman Elvira Nabiullina has increased interest rates 250 basis points since February to stem capital outflows and signaled she's ready to raise them again.
"Yes, the situation has stabilized, but the long-term costs for the Russian economy are still here," Dmitry Kosmodemiyanskiy, a money manager at Otkritie Asset Management said by e-mail on Sept. 5. "The central bank will keep raising the interest rate, so the best outcome is flat."
The ruble climbed 0.2 percent to 36.9200 versus the dollar, giving it a 0.6 percent advance in the week. The currency surged the most worldwide on Sept. 3 after Putin and Poroshenko backed a cease-fire. It depreciated 0.3 percent as of 6:52 p.m. in Moscow today.
Go Long
"I would go long Russian assets," Jean-David Haddad, a strategist at OTCex Group in Paris, said by e-mail. Haddad said he sees the "start of a big rally on real de-escalation."
Kapital's Postolenko isn't buying ruble-denominated bonds after last week's rally narrowed the premium of Russia's 2027 securities over the central bank's key interest rate to 146 basis points, compared with a four-month high of 183 on Sept. 2. Postolenko said he intended to invest in the debt when the spread reached 200 basis points, a "historically interesting level," but progress on peace talks thwarted that plan.
Poroshenko said on his website that his peace plan follows an agreement with Putin, including "significant" steps toward "decentralization" in Donetsk and Luhansk. Ukraine's government and the pro-Russian separatists reported deaths over the weekend, testing the truce.
"I was the most cautious person since the beginning of this conflict," Ogeday Topcular, a money manager at Ram Capital SA in Geneva, said by e-mail. "I changed my view in the beginning of August. I still think this is long process, but I think the probability that Russia starts to de-escalate the conflict has risen a lot."
Before it's here, it's on the Bloomberg Terminal.
LEARN MORE