Scots Independence Poll Puts 'Yes' Campaign Ahead at 51%
Rodney Jefferson and Thomas Penny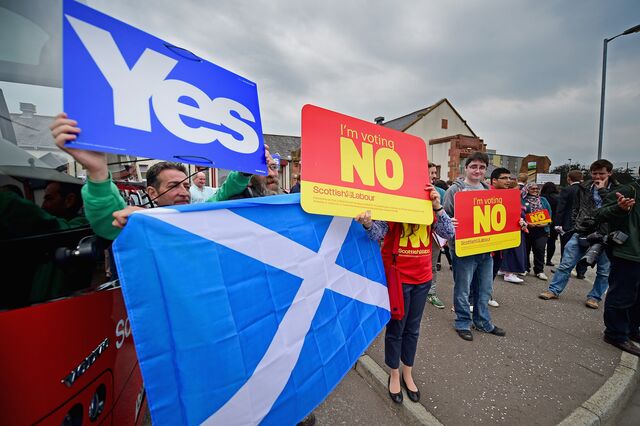 Scotland's nationalists overtook opponents of independence in an opinion poll for the first time this year, sparking a government promise of more powers for the Scottish parliament less than two weeks before the country votes on whether to break up the 307-year-old U.K.
A YouGov Plc survey for the Sunday Times showed Yes voters increased to 51 percent, while the No side dropped to 49 percent when undecided respondents were excluded. The shift to an outright lead for supporters of independence may further roil financial markets after the pound weakened last week when the pro-U.K side's support narrowed to six percentage points.
The Sept. 18 ballot on Scottish independence is dominating the U.K. after door-to-door campaigning on both sides intensified last week and as traders and investors no longer rule out a dramatic victory for nationalist leader Alex Salmond.
"For a positive message to catch up so much in a month is totally unprecedented," said Matt Qvortrup, a senior researcher at Cranfield University in England and author of "Referendums and Ethnic Conflict." "This is pretty revolutionary stuff in referendum terms. We're ringside to history."
Social Policy
Chancellor of the Exchequer George Osborne said a program to hand more powers to the Scottish Parliament if Scots vote No, offering Edinburgh more control over taxes, public spending and social policy, will be announced in the "next few days" as the London government responds to the shift in the polls. Talks are still ongoing on the detail of the proposal, his office said.
"It's clear that Scotland wants more control over the decisions that affect Scotland," Osborne said in a televised BBC interview. "The timetable for delivering that will be put into effect the moment there is a 'no' vote in the referendum. Then Scotland will have the best of both worlds. They will both avoid the risks of separation but have more control over their own destiny, which is where I think many Scots want to be."
Osborne also reiterated his opposition, which is shared by all major parties in Westminster, to currency union with an independent Scotland. "No ifs, no buts, we will not share the pound if Scotland splits from the rest of the U.K.," he said.
Salmond described the announcement of a planned transfer of more powers to Edinburgh from London, known as devolution, as a "bribe" and said Scots can only gain control of their own government by voting for independence.
'On the Run'
"We're encouraged by the clear panic in the 'no' campaign," he said in a BBC television interview. "They've failed to scare the Scots, now they're trying to bribe us. That won't work either. We've got them on the run."
The pound may trade lower as markets absorb the poll and start to price in a higher probability of a Yes win, said Sebastien Galy, a senior currency strategist at Societe Generale SA in New York. "The market has been very relaxed regarding this risk and may now take a sharper interest," he said.
Bond investors, meanwhile, are underestimating the chances of Scotland going it alone, an outcome that may hurt the fixed-income market in a way similar to a reduction of the U.K.'s credit rating, BNP Paribas SA said last week.
With campaigning in its final days, the opposition Labour Party is trying to keep its supporters onside in a traditional heartland and vote against independence. Former Prime Minister Gordon Brown, still a Labour lawmaker, will tour the country making the case for the union.
'Irreversible Decision'
"I want to share our resources with the rest of the United Kingdom, and that will mean better pensions, better health care, more jobs and better security," Brown, a Scot, said in an interview with Sky News. "Whatever government is in power temporarily, you've got to look at the long term picture. You've got to look 50 years ahead, 100 years ahead. This is an irreversible decision."
Salmond, who heads the devolved Scottish government in Edinburgh, is luring wavering voters by arguing that self-governing Scots are better equipped to protect the health service and preserve social justice.
The pro-independence group Yes Scotland called the YouGov poll a breakthrough that proved the momentum was with the nationalists. At the same time, the group published its own latest polling, conducted by Panelbase, that showed its campaign still needed to overcome a four-point deficit to triumph.
"We will be working flat out between now and Sept. 18 to ensure that we achieve a Yes vote, because it's the biggest opportunity the people of Scotland will ever have to build a fairer society and more prosperous economy," Yes Scotland Chief Executive Officer Blair Jenkins said by e-mail.
Better Together
The polls' results show nothing can be taken for granted, said Alistair Darling, head of the pro-U.K. Better Together campaign and a former Labour chancellor of the exchequer.
"These polls can and must now serve as a wake-up call to anyone who thought the referendum result was a foregone conclusion," Darling said in a statement to the Press Association. "It never was. It will go down to the wire. Now is the time to speak up and speak out."
Before last week, YouGov had shown the No camp further ahead than other pollsters. In early August, it put the anti-independence lead at as much as 22 percentage points.
When including all respondents in the latest survey, taken Sept. 2-6, Yes supporters accounted for 47 percent, with those planning to vote No on 45 percent, YouGov said. Undecided voters and people not planning to cast a ballot made up the rest.
Status Quo
The Panelbase survey for the Yes camp on Sept. 2-4 found support for leaving the U.K. was at 48 percent, while backing for the status quo was at 52. Including undecided voters, the poll found 44 percent of respondents favored independence versus 48 percent against, with 8 percent still to make up their minds.
The company's poll last month showed the anti-independence campaign also led by four percentage points, with 12 percent undecided. A survey it did for the Scottish National Party a year ago had the Yes side ahead by a point at a time when other polling companies put support for remaining in the U.K. more than 17 points ahead.
"We had expected the polls to tighten in the final few weeks of the campaign," said Rob Wood, chief U.K. economist at Berenberg, adding that he still projects a No vote. "But the recent movements have been further and faster than we had anticipated. It raises the risks of the U.K. breaking up."
Before it's here, it's on the Bloomberg Terminal.
LEARN MORE