Egypt Ex-President Mursi Charged With Leaking Secrets to Qatar
Maher Chmaytelli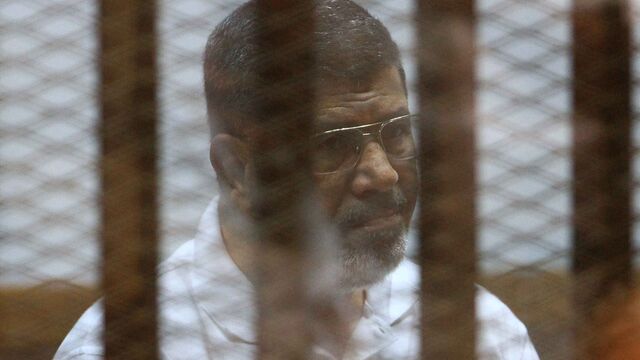 Egypt's prosecutor general accused former President Mohamed Mursi, who was ousted last year by the military and is now in jail, of leaking state security secrets to Qatar.
The prosecutor, Hisham Barakat, referred Mursi to the criminal court on charges that he delivered secret documents to Qatari intelligence through aides and an executive at the Al Jazeera television channel. Qatari intelligence agreed to pay $1 million in return, Barakat said in a faxed statement that also accused several other people of involvement.
Mursi's outlawed political organization, the Muslim Brotherhood, made no response to the statement. Al Jazeera, which is based in Qatar, reported the accusation on its website without comment.
The former president already faces charges that carry the death penalty including treason, espionage and sponsoring terrorism. The army's chief, Abdel Fattah el-Sisi, was elected in May as president. Qatar provided economic support to Mursi's administration.
The leaked documents include "critical reports about the armed forces, their deployment locations and armament; the internal and foreign policies of the country, and documents sent to him by the general and military intelligence and national security," according to the prosecutor's statement.
Before it's here, it's on the Bloomberg Terminal.
LEARN MORE