business
Zegna Debuts Made-to-Measure "Casual Luxury" Sportswear
By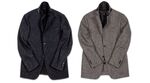 Long having been a power player in the men's tailored suiting business, Italian luxury brand Ermenegildo Zegna is adding a collection of "casual luxury" sportswear to its already substantial made-to-measure portfolio. Now your raincoat and dedicated business-class blazer can fit just as snugly as your sharpest pinstripes.
Lately, the tailoring market has become flooded with brands offering custom this and bespoke that. Much of the time it's little more than marketing, an attempt to capitalize on a consumer's desire to wear something personalized. But Zegna's been in this game for a while; it was the first tailoring company to offer made-to-measure suits on an industrial scale. Its northern Italian factory began producing tailored clothing in 1968, and added made-to-measure as an option in 1972. After four decades, it seems safe to say this isn't just a marketing tactic.

While customers at Zegna boutiques have long been able to pick up ready-to-wear macintosh jackets or weekend blazers on their way to get fitted for suits and sport coats, the Italian label's Zegna Su Misura line is now offering custom flexibility for sportswear, too. This is "sportswear" in the fashion sense -- comfortable separates and outerwear that are suitable for many different occasions, day and night. The inaugural made-to-measure casual luxury collection focuses on three categories: jackets and blazers, outerwear, and knits. (Custom cashmere knits have already been available from Zegna for some time, but the other two are entirely new for fall 2014.) Customers have an edited choice of fabrics and styles to choose from, plus an array of optional detailing.

There are three outerwear models: a raincoat, a heavier coat with a fur collar, and a lightweight jacket with a detachable vest. Each is available in five different fabrics, plus leather options like suede. The standout is the slick single-breasted raincoat that will make a drizzly autumn less depressing.
Jackets and blazers come with or without a zip-up quilted collar that can be removed for more formal settings. For these sport coats there are seven fabrics with 25 color choices. Details like buttons, lining, and trim can be hand-picked. There is also an unstructured jacket made from edge-cut fabric that feels like the most incredible sweatshirt you've ever worn (in a good way).
Zegna, a century-old brand that began as a woolen mill, still makes some of the best cloth across categories. The swatches here mix elegant looks with technical developments -- for example, the cloth used in the heavier coat has a waterproof membrane hidden inside. The casual luxury pieces will perform under duress, but without making you look like you just left a SoulCycle class.

The ordering process is simple: After a first fitting with a tailor, the order goes off to Europe (Switzerland for the jackets; Italy for the outerwear) and is made on a relatively tight timeline -- only four weeks for jackets and seven for outerwear. When you take delivery there's a second fitting, and the tailor will make any last-minute adjustments. From there, the clothes are yours, and both your measurements and any adjustment notes are kept on file to simplify future orders.
Zegna's made-to-measure casual luxury collection is now available at most Zegna boutiques, and in the coming months there will be limited opportunities to order through major retail partners. Sport coats start at $2,495, outerwear at $3,995, and knits at $995.

Before it's here, it's on the Bloomberg Terminal.
LEARN MORE