Welcome Real Football, Having Had Enough With Nil: Opening Line
Laurence Arnold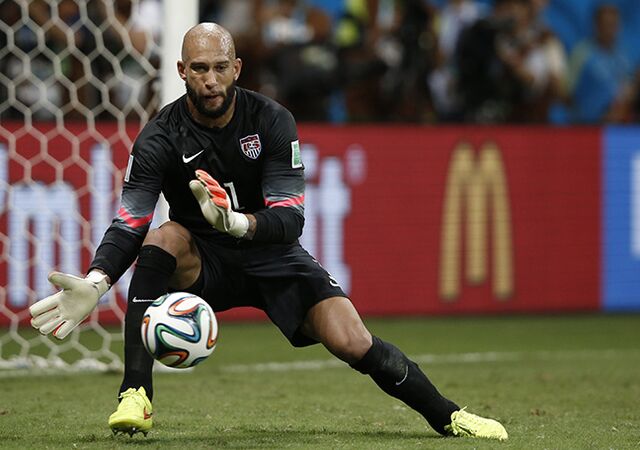 We're not just ready for some football -- we're practically aching for some scoring.
Major League Baseball, beloved for many reasons other than blood-rushing excitement, has this season showcased ascendant pitchers and defensive shifts that look crazy but seem to work. Coming on the heels of the sport's necessary crackdown on steroid-fueled sluggers, those developments are making runs scarcer still.
For a few heady weeks in June, we tried to feed our competitive appetite by rooting for goooooooooals in World Cup soccer. After the American team won its first match and tied its second, office productivity took a hit as we got invested in the squad's escape from the Group of Death.
The reward for our interest: zippo goals in a 1-0 loss to Germany, and a knockout-round showdown with Belgium that finished 90 minutes of regulation tied at, as they say, nil-nil. For most of the overtime that followed, we were left cheering goalie Tim Howard's saves rather than any methodical advance against the Belgian defense.
So yes, we're ready -- for an avalanche of points, touchdowns by the truckload. Just don't celebrate with a goalpost dunk. We're looking at you, Jimmy Graham.
Sure, boot your field goals when necessary (through those higher-than-ever yellow uprights), and don't miss your extra points (chip-in-easy again, following a preseason experiment), but whatever you do, reach the end zone -- by running, skipping, dancing, hopping, rolling, leaping, whatever.
At Slate.com, Kevin Craft recalls how, 20 years ago, the NFL was mocked as the "National Field Goal League," with sputtering offenses and "so many dull games." Then Commissioner Paul Tagliabue and a committee of coaches and managers tweaked the rules to promote touchdowns by making life easier for offensive lineman and almost impossibly hard for the defensive backs who cover receivers.
In the 1994-1995 season, the first with the new rules, average points per game jumped 8.5 percent, to 20.3 per team, on its way to an all-time high of 23.4 last season. We can only imagine how high that will go this year -- last night's 36-16 season-opening win by the Seattle Seahawks over the Green Bay Packers was an auspicious start -- if referees keep calling more and more penalties for touching receivers, as happened throughout the preseason.
Anyway, football is back. We'll watch Chip Kelly's offense, listen for Richard Sherman's comments, look for Johnny Manziel, wonder about the New York Jets, and try to decide what to call the Washington Whatevers.
Let's get it on.
***
Today's economic indicators include the monthly jobs report at 8:30 a.m. EDT.
No earnings reports of note.
***
- Truce talks today have Ukrainian President Petro Poroshenko feeling cautiously optimistic. - UBS and Barclays are among banks in the U.K. doing tougher background checks on would-be employees. - BP could see years of profits wiped out by a judge's ruling on damages from the 2010 Gulf oil spill. - New York State is interested in how an outpatient throat procedure led to the death of comedian Joan Rivers. - Tax avoidance hits the big screen with the premiere of "The Price We Pay" at the Toronto International Film Festival today. - Interest rates aren't low enough to spur demand, says Minneapolis Fed President Narayana Kocherlakota. - A third doctor returns to the U.S. to be treated for Ebola. - Jurors who convicted former Virginia Governor Robert McDonnell viewed evidence as overwhelming from start of deliberations. - Coach's congratulatory call to Little Leaguer Mo'ne Davis is deemed a violation of NCAA rules. - Belarusian boy could be fined for nominating President Aleksandr Lukashenko to take the ice bucket challenge.
***
Good morning, and welcome to the annual meeting of Goldman Sachs vice presidents. We gather here at this massive convention center because our usual venues for bank events couldn't accommodate so many thousands of you.
Can everybody hear me way in the back?
Good. I'm going to spend a few minutes discussing some recent issues. Then we'll break into small discussion groups of 900 or so to share our thoughts and feelings.
First, I hope you all read my memo from last week about funerals. For some reason many of you have the impression that the title "vice president" conveys upon you a responsibility to represent our company when someone dies. I don't know how you got the idea that vice presidents go to funerals, but we've already blown the annual flower budget, and it's only September. So let's cut it out.
Second, I want to clarify our policy on the articles "the" and "a." When you are asked for your title at our firm -- whether in conversation, on LinkedIn, or elsewhere -- the correct answer is, "vice president."
I repeat -- just "vice president." If the person you are talking to follows up by asking, "Does that mean you are 'the' vice president, or 'a' vice president?", you are to take leave of the conversation right away, perhaps by looking at your phone and saying it appears you're needed at a funeral.
Finally, some of you -- not many, only 500 or so -- have come to me privately with concerns about this unpleasant business with Sergey Aleynikov, his legal bills, and our position that vice presidents aren't officers of the firm.
A Bloomberg View columnist, Matt Levine, wrote that we and other banks have thousands of vice presidents because we have been, quote, "inflating titles." He goes on to say that we call all of you vice presidents, quote, "to reassure clients that the awfully young-looking person running their merger is a senior executive and global head of something or other, and can therefore be trusted to make important decisions with no adult supervision."
To that, let me say: This might be a good time to stretch our legs and head into those breakout sessions.
***
We don't remember Kansas politics being this interesting.
For those of you not keeping track, the sitting Republican senator, Pat Roberts, seemed to have cleared the biggest hurdle to his fourth six-year term when he beat a Tea Party challenger in the primary last month. Since then, polls had given him about an 8-percentage-point lead over Democrat Chad Taylor. Roberts holding his seat is a linchpin in the Republican strategy to win a Senate majority.
On Tuesday, Democrat Taylor abruptly and somewhat mysteriously announced he was dropping out. This was seen, perversely, as bad news for Roberts, since it would leave him in a head-to-head matchup with an independent candidate, Greg Orman, who could be more appealing to voters than Taylor was.
"Orman is now the front-runner, a change that puts the Democrats squarely in the driver's seat to retain control of the Senate," the New Yorker's Sam Wang wrote yesterday morning.
"Meet Greg Orman, the man who could decide the Senate majority," the Washington Post ventured a few hours later, calling him "a political enigma" who has given money to both parties and says he voted for Barack Obama in 2008 and Mitt Romney in 2012.
Before the sun could set on day one of the Orman boomlet, another shoe dropped. Kansas's secretary of state ruled that Taylor's name must remain on the Nov. 4 ballot, raising the prospect of two challengers splitting the anti-Roberts vote, helping the incumbent. Now this dispute seems heading to court, even with the first candidates' debate scheduled for tomorrow.
Kansas -- you've got our attention now.
***
Tom Moroney, Bloomberg's Boston bureau chief, hasn't always been tethered to a keyboard.
At 14, he cut lawns and took on other odd jobs in his neighborhood of Acton, Massachusetts, once cleaning up the present a dog left for its owner in the back seat of a car.
He waited tables at an Italian restaurant, worked in a steel factory and pitched in at his dad's "small sweaty manufacturing plant, where everyone loved to pick on the boss's kid."
In these early work experiences, "I learned that most people have the desire to do more than collect a paycheck," Moroney says, "that there's a nobility in whatever they choose because there's something very unique and important that drives them."
In "A Day's Work," a recurring column starting today (with video too), Moroney takes us on a tour of the American job landscape.
His first subject, Marc Gill, is the Canadian-born "big, bald, bearded genie" you'll come across in television infomercials pitching the Ronco Ready Grill from the studios of HSN in Clearwater, Florida. Gill is intent on reviving Ronco, which, before its 2007 bankruptcy, helped create the infomercial industry under founder Ron Popeil.
At 17, Gill sold vacuum cleaners door-to-door in Saskatoon, Saskatchewan. A few years later, inspired by Popeil's infomercial for Ronco's Showtime Rotisserie, Gill bought nine of them -- and, more importantly, dedicated himself to mastering the art of the sale.
Reading Studs Terkel sealed Moroney's interest in aspiration -- how workers, no matter the job, are driven by something loftier than just earning money. So far he's traveled to California, Idaho, Texas and Florida to learn about workers and their workdays. He invites Bloomberg readers to suggest people to profile in future columns.
"If some polls and pundits have declared the American Dream dead, there are those in occupations old and new, fading and emerging, who defy the numbers," he writes in his opening column. "They strive, as Thoreau once advised, to live the life they've imagined. This column will tell their stories."
***
Following the worst summer for Hollywood since 2006, the film industry celebrates the unofficial start of fall with … not much.
"The Identical," this weekend's new release, manages to suggest Elvis at every turn without featuring the King or his music. It has the music-or-religion tension of "Footloose," without the dancing. It has Ray Liotta as an old, gray, conservative man of god; we've always liked him playing charming, youthful, dangerous and unstable.
We'll stay home and rewatch "Goodfellas."
***
A late-summer wind was a factor at the U.S. Open in New York, as five-time men's champion Roger Federer staged a comeback against Gael Monfils to advance to the semifinals for the first time in three years.
Federer, at the ripe age of 33, next faces Marin Cilic, who defeated Tomas Berdych. In tomorrow's other semifinal, top seed Novak Djokovic plays Kei Nishikori.
We'll know the women's championship finalists today, after top seed Serena Williams meets Ekaterina Makarova and Caroline Wozniacki plays Peng Shuai.
(An earlier version of this story was corrected to say Belgian defense ended U.S. World Cup soccer hopes.)
Before it's here, it's on the Bloomberg Terminal.
LEARN MORE