Swindler of Missouri Town Pleads Guilty in Sweetener Scam
by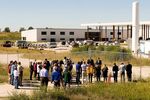 In 2010 a Beverly Hills lawyer named Bruce Cole promised to bring economic opportunity to the small Missouri town of Moberly. He claimed to run a thriving business manufacturing the artificial sweetener sucralose in China and said he wanted to move his operations to America because of the premium a "made in the U.S." product could claim overseas. Cole wanted to build a state-of-the-art facility that would operate 24 hours a day and eventually employ 612 people–all he needed was financing.
Three weeks after Cole came to town, Moberly officials gave initial approval for $39 million worth of municipal bonds for his company, Mamtek. By 2012, when I wrote about the company for Bloomberg Businessweek, Mamtek had collapsed and the $39 million was gone. The employees had been laid off, with recently purchased equipment sitting in an unfinished, open building.

Cole went back to Beverly Hills under a cloud investigation that would result in charges of theft and securities fraud in Missouri. He pleaded guilty this week to two counts of fraud and one count of theft.
Moberly, with a population of 14,000 and an annual budget of about $7 million, had bigger ambitions than prospects. Cole did, too. He was in dire financial straits when he persuaded Moberly to invest in his project. His Beverly Hills home was about to go into foreclosure, and he faced other fairly substantial debts. As soon as some of the bond money was available, Cole used it to save his home.
It turned out there was no factory in China and no Chinese investors. The patents for the sweetener Cole boasted about were worthless; the blueprints for a new factory were unsuitable for the U.S.
Moberly hadn't been Cole's first choice. Officials in Bismarck, N.D., among others, had seen through him. As one said to me: "We never saw any information about their financials. They didn't even bring any sucralose. We have an expression up here: a rancher who's all hat and no cattle."
Moberly's credit rating was downgraded after Mamtek defaulted on the bonds, but it's the bondholders who are out the $39 million. Lawsuits to recover some of that money are proceeding.
Cole's sentencing hearing is scheduled for Nov. 3. He faces five to seven years in prison.
Before it's here, it's on the Bloomberg Terminal.
LEARN MORE