Oakland A's Will Pay Back Wages to Interns and Clubhouse Workers
By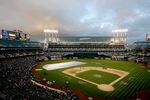 The Oakland Athletics will shell out a quarter-million dollars to settle claims that they illegally underpaid their clubhouse workers and interns. Under an agreement with the U.S. Department of Labor, 86 current or former A's workers will receive a total of $266,358, a department spokesperson confirmed on Friday.
"We were pleased that we were able to assist in getting workers what they deserve, a fair day's pay for a fair day's work," David Weil, the administrator of the DOL's Wage and Hour Division, said in an e-mailed statement. "WHD continues discussions with [Major League Baseball] and looks for future opportunities to provide meaningful compliance assistance." In an e-mailed statement, the A's said that they had conducted their own internal audit in 2013 and they were "pleased that the matter could be resolved quickly and informally with the DOL to both parties' satisfaction."
The A's follow at least two other Major League Baseball teams that have settled with the DOL over alleged wage theft since 2013. The Miami Marlins paid $288,290; the San Francisco Giants paid $765,508. The Baltimore Orioles are also currently under investigation, the Labor Department confirmed on Friday.
Those investigations haven't gone unnoticed by MLB. In a 2013 e-mail (PDF) obtained by the news outlet FairWarning, Major League Baseball's former Executive Vice President of Labor Relations Robert Manfred Jr. warned club presidents and attorneys, "The DOL believes that the issues it has identified are endemic to our industry, and has requested the Office of the Commissioner's assistance in addressing its concerns." (Manfred is now baseball's commissioner-elect.) MLB officials said they'd told the government that "each MLB Club is a separate employer" responsible for its own legal compliance, but that MLB would help educate the clubs about the areas the Labor Department was looking into, so that they could be resolved "without the need for government intervention."
The baseball executives provided the teams a list of potential violations the Labor Department was exploring, including the use of unpaid interns; wrongly exempting clubhouse managers and videographers from overtime rules; leaving out bonuses from overtime pay; and paying a daily rate that could fall short of the minimum wage.
Before it's here, it's on the Bloomberg Terminal.
LEARN MORE