pursuits
Nike's Kevin Durant Negotiation: A Tale of Two Sneakers
By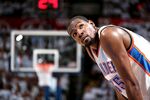 It's been a tense couple of weeks for Nike negotiators as they squared off against Under Armour in a bidding war for NBA superstar Kevin Durant. The product team, however, was having a blast.
On Aug. 16, as Durant's contract was expiring and negotiations were about to start in earnest, Nike's product people launched his newest shoe, a limited edition called "the Calm Before the Storm."All-gray and posted with socks bearing clouds and lightning, the sneakers come with the tag-line: "Durant's game personified."

Then came the storm, the haggling, the big Under Armour offer, and Nike's $275 million, 10-year bid that ultimately won. On Thursday, after the clouds around its big star cleared, Nike unveiled a second new Durant sneaker: "the Easy Money."
As one might imagine, there's a lot of green involved.

Before it's here, it's on the Bloomberg Terminal.
LEARN MORE