Mozambique Government, Renamo Leaders Agree to End Violence
William Felimao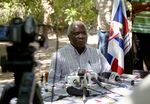 Mozambican President Armando Guebuza shook hands with opposition leader Afonso Dhlakama, agreeing to end months of violence.
The meeting today in the capital, Maputo, marked the ratification of a peace agreement between the Mozambican National Resistance, known as Renamo, and the ruling Front for the Liberation of Mozambique, or Frelimo, signed last month.
"Peace is the most valuable resource that we can have and this moment is crucial to reinforce a good environment of business in our country," Guebuza said in a speech at the ceremony.
The government has sought to ease tensions before general elections in October. Clashes between Renamo and security forces disrupted public transportation in Sofala and the movement of coal by rail to the coast from mines owned by Rio Tinto Plc and Vale SA last year.
Renamo, once backed by the white-minority governments of Rhodesia, which is now Zimbabwe, and South Africa, fought a 17-year civil war against Frelimo until signing a peace accord in Rome in 1992.
"I hope that the agreement sealed today will end the inequalities between Mozambicans and bring opportunities to all," Dhlakama said.
Mozambique's 25.2 million people remain among the world's poorest. The country ranks 178th of 187 countries in the latest United Nations Human Development Index. It's also the site of the biggest natural-gas discovery in the past decade.
The government will create a fund to help Renamo militiamen integrate into civilian life, Guebuza said.
"We are not going to distribute money, but we want to fund projects to help former militiamen to develop initiatives for their social and economic reinsertion," he said.
Before it's here, it's on the Bloomberg Terminal.
LEARN MORE