Martoma Loses Bid to Throw Out Insider-Trading Conviction
Bob Van Voris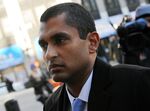 Former SAC Capital Advisors LP portfolio manager Mathew Martoma, found guilty of orchestrating a $275 million insider-trading scheme, lost a bid to throw out the conviction days before he's set to be sentenced.
U.S. District Judge Paul Gardephe in Manhattan yesterday denied Martoma's request to be declared not guilty or to be granted a new trial. The ruling clears the way for the judge to sentence Martoma Sept. 8 in what prosecutors call the most lucrative insider-trading scheme ever charged against an individual.
Martoma, 40, was convicted in February of using illegal tips from two doctors overseeing clinical tests on an Alzheimer's Disease drug to trade in shares of Elan Corp. and Wyeth LLC. Before trial, Martoma rejected the government's offer of leniency in exchange for his help in an investigation of SAC Capital founder Steven A. Cohen.
Prosecutors have asked that Martoma be ordered to serve more than eight years in prison. Martoma is seeking leniency, arguing that he isn't as blameworthy as other recent insider-trading defendants, including Raj Rajaratnam, the Galleon Group LLC hedge fund co-founder who's serving an 11-year sentence in a medical prison in Massachusetts.
Gardephe in yesterday's ruling rejected Martoma's arguments that the jury lacked sufficient evidence to convict him on two counts of securities fraud and one count of conspiracy. Gardephe also dismissed Martoma's argument that the jury was prejudiced by press reports of his 1999 expulsion from Harvard Law School for faking a transcript of his grades. The expulsion, which wasn't mentioned in the trial, became public through legal documents unsealed near the end of jury selection.
Martoma Fainted
Jurors also didn't hear that Martoma fainted in the front yard of his Boca Raton, Florida, home when confronted by two agents from the Federal Bureau of Investigation in 2011.
Martoma is one of seven former SAC Capital managers and analysts convicted in the government's investigation of Cohen and his Stamford, Connecticut-based hedge fund.
SAC Capital, which has changed its name to Point72 Asset Management LP, agreed last year to pay $1.8 billion and plead guilty to securities fraud and other charges to resolve the insider-trading probe by Manhattan U.S. Attorney Preet Bharara.
Cohen, 58, hasn't been charged and denies all wrongdoing. He's the subject of a U.S. Securities and Exchange Commission administrative proceeding that accuses him of failing to supervise the hedge fund's employees, including Martoma and former fund manager Michael Steinberg, who was sentenced in May to 3 1/2 years in prison after his conviction on insider-trading charges.
After Sentencing
While Martoma has refused to cooperate with the government, prosecutors may seek leniency for defendants who provide information, even after sentencing.
The SAC Capital investigation was part of a larger government crackdown on insider trading at hedge funds. Since August 2009, Bharara's office has charged 89 people with insider trading. Of that number, 81 were convicted, most through guilty pleas. Only one defendant, Rajaratnam's brother, Rengan Rajaratnam, was found not guilty at trial. The remaining seven cases are pending.
Prosecutors argued that Martoma "cultivated and corrupted" the two doctors to give him illegal inside tips. Martoma made $275 million for SAC, in profits and losses avoided, and a bonus of more than $9.3 million for himself, they said.
'Devastating Impact'
More than 120 people have written Gardephe seeking leniency for Martoma, who's married with three young children. His lawyers argued that "the devastating impact of a prolonged sentence" on his family supports leniency. They said the amount of gain from the crime, for sentencing purposes, should be limited to the bonus he got from the trades, not the entire benefit to SAC claimed by the government.
The government's star witness at Martoma's trial was Sidney Gilman, a former university of Michigan neurologist who was chairman of the safety monitoring committee for bapineuzumab, the Alzheimer's drug that was being developed by Elan and Wyeth. Gilman told jurors that Martoma pressed him to disclose secrets about the drug trial during dozens of paid consultations arranged by Gerson Lehrman Group Inc., an expert-networking firm.
He testified that when he was first confronted by FBI agents, one of them said he was "only a grain of sand, as is Mr. Martoma" and that "they are really after a man named Steven A. Cohen."
The case is U.S. v. Martoma, 12-cr-00973, U.S. District Court, Southern District of New York (Manhattan).
Before it's here, it's on the Bloomberg Terminal.
LEARN MORE