pursuits
It's Uniqlo vs. Uniqlo at the US Open
By
It's Uniqlo vs. Uniqlo at the US Open
By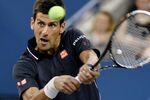 No matter who triumphs in the US Open men's semifinals on Sept. 6, we already know one winner: the Japanese clothing company Uniqlo. Kei Nishikori, the tournament's 10th seed, and Novak Djokovic, the No. 1 player in the world, will both be wearing Uniqlo clothes. "It's fantastic for us to have both of these stars battling each other while wearing our clothes," Eriko Muteki, a spokeswoman for the brand, told Bloomberg News. The company's billionaire chairman, Tadashi Yanai, was more direct: "It's a dream match," he said.
Uniqlo is probably best known in the U.S. for its down jackets and cashmere sweaters. They're basic, affordable, and available in dozens of colors. The company also sells so-called performance wear, such as quick-drying shorts and heat-trapping undershirts. Uniqlo forms the bulk of Fast Retailing, the biggest apparel company in Asia. Yanai has said he wants it to be the biggest in the world by 2020.
For that, he's come to America. Uniqlo had only about 20 stores in the U.S. last year. This summer and fall it will almost double that number. All of the stores are on the East and West coasts for now, though it does sell online.
On the website, there's a big red banner congratulating both tennis players and encouraging customers to cheer them on. Nishikori, who signed a five-year endorsement deal in January 2011, is the first Japanese player in almost a century to reach the men's semifinals at the US Open. Djokovic signed a five-year deal in May 2012. He said at the time that he will have a role in the design of the clothes and that he'll be wearing Uniqlo off the court as well. "I feel a natural connection with Uniqlo," he said in a statement. "To me, Uniqlo is not fast fashion, and it's not sports wear. Uniqlo is the ultimate functional wear, which is exactly what I need."
This year we'll see how many other shoppers in the U.S. feel that way, too.