Dot-Com Era Ghosts Not Scaring Abby Joseph Cohen Off Bull
Michael P. Regan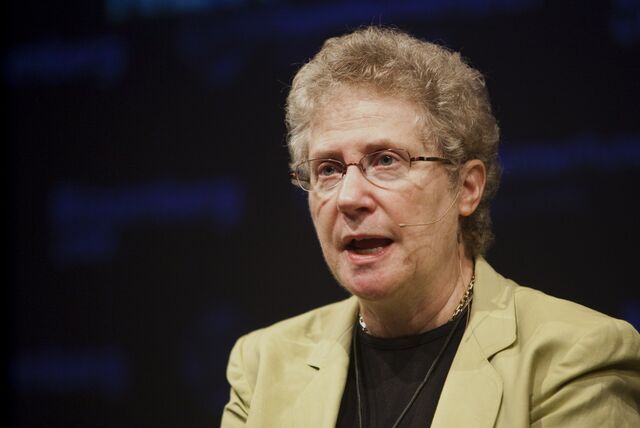 Here's something you probably already know about Abby Joseph Cohen of Goldman Sachs Group Inc.: She famously stayed too bullish during the implosion of the dot-com bubble.
For example, she stuck to her guns in October 2000 with a forecast that the Standard & Poor's 500 Index would end the year at 1,575 and reach 1,650 within 12 months, according to her remarks at the 92nd Street Y in New York. (Note to out-of-towners: they do a lot more than shoot hoops and lift weights at that particular Y.) The index ended the year at 1,320, was at 1,091 a year later and eventually bottomed at 776 in 2002.
Here's something you may not know about Cohen if you tuned her out after that: Her prediction last year almost hit the nail on the head, at least compared with a flock of Wall Street strategists who hit the nail on their thumb. She forecast at the start of the year that the S&P 500 would end 2013 at 1,787, according to the New York Times. The index closed about 3.4 percent higher than that, while 20 percent higher than the average Wall Street forecast tracked by Bloomberg.
As the current bull market rivals the rally of the late 1990s in velocity if not valuation, the ghosts of the dot-com bubble are not haunting the 62-year-old senior investment strategist and president of Goldman Sachs's Global Markets Institute. Yes, she's still a bull. Loud and proud. (Actually demure and soft spoken as usual, but you get the picture).
'Much Better'
"What the bears are missing is that the U.S. economy is in fact now sustainably in much better condition than it was before," she told Tom Keene on the "Bloomberg Surveillance" television show today. "Consumer confidence is up because jobs are improved, the consumer balance sheet is better. Companies are performing better as well. And it's not just the large multinational companies now, we're seeing improvements in performance at the small and mid-cap level."
Cohen said companies are beginning to put more cash toward growth-fostering endeavours -- creating jobs, buying manufacturing equipment -- rather than just paying dividends and buying back their own stock.
Asked about the prospects for the Dow Jones Industrial Average to reach 20,000, she said: "I don't want to put a number on it, let's just put a direction. And the direction is generally up."
Corporate Profits
"It won't be unbroken," she said. "What we basically see is several years of economic growth up ahead at a moderately good pace. We think corporate profits will keep track and of course, we think it will be a while before inflation rises."
Yes interest rates, below zero on an inflation-adjusted basis in some countries, are bound to rise, she acknowledged.
"When we run things like discounted cash flow models, dividend discount models, that assume higher rates, equities still seem to offer good values and much better value than bonds," she said.
One last thing you might not know about Abby Joseph Cohen: She's not very fond of Times Square. Can't really blame her. That Nasdaq MarketSite has got to be a scary sight to anyone who survived the dot-com bubble.
Before it's here, it's on the Bloomberg Terminal.
LEARN MORE