China Cracks Down on Corrupt Business Schools
By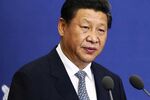 Chinese President Xi Jinping has led an unprecedented crackdown on corruption among Communist Party leaders. His next move is to weed out wrongdoing at business schools.
Last month, the government put in place a new law that blocks executives from using public money to pay for pricey executive education programs. Specifically, it blocks "'leading cadre' within the party, the government and state-owned enterprises from signing up for 'high-fee' business training unless they have official approval and pay full fees themselves," the Financial Times reported on Friday.
That law also requires government officials currently enrolled in these types of programs to quit immediately.
Chinese business schools boast about attracting government officials. Having such figures on their rolls boosts their prestige for executive students, who are promised the chance to mingle with powerful players in government. That type of networking is critical to running a successful business, people involved with the schools told the Financial Times.
"You may find individual cases of corruption within the EMBA community but we mustn't let a rat's dropping spoil a whole cauldron of soup," one EMBA program head said.
But critics say the programs may promote bribery or induce civil servants to wield undue influence in favor of certain private interests. The Chinese president seems to agree.
Concerns about EMBA programs stem from the fact that government officials often don't pay for their own degrees—instead, they are offered scholarships or use public funds to pay price tags of about $100,000, according to Xinhua, the official state news agency. The overall cost of the programs can be much higher, Xinhua said, after taking into account the "deluxe parties and overseas sightseeing" involved in the EMBA curriculum.
Some schools are especially brazen about that recruitment strategy. Xinhua said that Peking University's program, for example, "has a policy of exempting tuition if 'an official can bring three other entrepreneurs to the class.'" The news agency also said that more than 100 programs publicly boast about their ability to attract "high ranking officials."
Before it's here, it's on the Bloomberg Terminal.
LEARN MORE