Brown Hails California Rally as Kashkari Goes on Attack
Michael B. Marois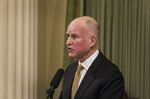 Governor Jerry Brown used a debate to highlight his restoration of California's finances as challenger Neel Kashkari said Tesla Motors Inc.'s decision to build a factory in neighboring Nevada shows the state isn't doing enough to lure jobs.
Brown, a 76-year-old Democrat, said the state has gone from a $25 billion deficit to its largest surplus during his tenure and has recovered most of 1.4 million jobs lost in the longest recession since the 1930s. He said Tesla demanded a "massive cash upfront payment" to build in California that wasn't in the best interest of taxpayers.
The debate marked the first and only scheduled encounter between Brown, seeking an unprecedented fourth term, and Kashkari, 41, a former Goldman Sachs Group Inc. executive known for running a Wall Street rescue program during the financial crisis. A Field Poll released yesterday showed the Republican challenger trails Brown by 16 points among likely voters in the most populous U.S. state.
"Four years ago when I went to Sacramento, the place was in a shambles and we were being called a failed state just like Greece," Brown said. "That's not the case anymore. The majority of people in California feel we are on the right track."
Middle Class
Brown, already California's longest-serving chief executive, was elected in 2011 after serving two previous terms as governor from 1975 to 1980, and has been attorney general, secretary of state and mayor of Oakland.
"I think Governor Brown means well, but his 40 years in government have left him out of touch with the struggles of working families," Kashkari said. "He's declared a California comeback yet the middle class is all but destroyed."
Kashkari attacked Brown for failing to lure Tesla's new battery plant to the state where the Palo Alto-based company invented its signature electric cars. Tesla's chief executive officer, billionaire Elon Musk, said yesterday that he would build the factory east of Reno after Nevada offered $1.3 billion in incentives.
"We fought hard for Tesla, but Tesla wanted a massive cash upfront payment that I don't think would be fair to the taxpayers of California," Brown said. "But we wish Tesla well, because when Tesla wanted to build an electric car, they built it in Fremont, California, and electric cars are coming off the line every day."
A Tesla spokesman, Simon Sproule, declined to comment on Brown's statement, saying negotiations with states were confidential.
Bag Ban
Brown said he would sign a bill making California the first state to ban single-use plastic bags at grocery stores and pointed to his success in raising the minimum wage and improving health care for the uninsured. He also defended his plan to spend $68 billion on a high-speed rail line, saying it's cheaper and more environmentally friendly than building more roads and airports.
Kashkari is making his first run for public office. A former vice president at Goldman Sachs, Kashkari managed the U.S. Treasury's $700 billion bank rescue known as the Troubled Asset Relief Program in 2008. Current and previous Goldman Sachs employees, including former U.S. Treasury Secretary Henry Paulson, have helped Kashkari raise campaign funds.
Republican Tradition
Kashkari said Brown hasn't done enough to trim regulations and taxes that he said are pushing businesses out of the state. He said Brown has sided with teachers' unions rather than students. If elected, Kashkari said, he'd cancel the high-speed rail line and suspend Brown's plan to spend $15 billion on tunnels to move water to Southern California.
While California has a tradition of producing powerful Republicans including Richard Nixon and former governors Ronald Reagan, Arnold Schwarzenegger and Earl Warren, Democrats hold all statewide offices -- governor, lieutenant governor, secretary of state, treasurer and controller -- and have majorities in the state senate and assembly.
Brown has raised $5.68 million in campaign contributions and spent $37,500 this year, leaving him with more than $22 million on hand in the latest financing report. Kashkari has raised $4.47 million for his campaign in the same period, spent $4.36 million and had about $200,000 available.
Poll Gap
The governor enters the final two months of the campaign leading Kashkari, 50 percent to 34 percent, in the Field Poll released yesterday. Brown is viewed favorably by 56 percent of likely voters, while Kashkari gets 35 percent, according to the survey. Most likely voters -- 41 percent -- said they had no opinion of Kashkari.
The poll was conducted Aug. 14-28 among 467 voters considered likely to vote in November, and had a margin of error of plus or minus 4.8 percentage points. The image ratings were drawn from 236 voters, with a margin of error of plus or minus 6.5 percentage points.
The candidates traded pointed barbs. Brown criticized Kashkari for working for Goldman Sachs and then taking a job managing a bank bailout.
"It's kind of like the arsonist putting out the fire," Brown said.
Kashkari said Brown's decision to appeal a court ruling tossing out protection for teachers' jobs shows he's more interested in protecting unions than helping students.
Resurgent Economy
"This is one of the most important civil rights issues in many years," Kashkari said. "You should be ashamed of yourself governor, ashamed."
California's finances have been buoyed by a resurgent economy, a tax increase Brown won from voters and a rising stock market. Since he took office, the state has won its highest credit rating since 2001.
"This is the eighth-largest economy in the world," Brown said. "Before I became governor, it was the ninth largest."
The value of goods and services produced in the state surpassed Italy and Russia in 2013, according to a July report from the Center for Continuing Study of the California Economy in Palo Alto. The $2.2 trillion gross state product figure puts California behind seventh-ranked Brazil.
Brown helped to curb costs of the state's public pension systems by as much as $60 billion over three decades and struck a deal with lawmakers to begin paying down the $74 billion unfunded liability in the state's teacher retirement fund.
Brown also won passage of a plan to create a rainy-day reserve that would cushion against economic downturns and might help boost the state's credit rating even more.
Kashkari said California needs to do more to attract and retain businesses. The state should grant fast-track environmental reviews to all companies, rather than a select few with high-priced lobbyists, he said.
"We need to improve our overall economic climate so that all of our job creators can do their best and can grow and put California families back to work," Kashkari said.
Before it's here, it's on the Bloomberg Terminal.
LEARN MORE