Boeing Nemesis Leahy Faces Paris Grounding as Airbus Trial Looms
Andrea Rothman and Ania Nussbaum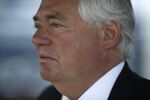 John Leahy, the Airbus Group NV executive who has helped sell 12,000 jets over two decades, is poised to stand aside from the European planemaker's perennial battle with Boeing Co. to face trial for insider trading.
French law normally requires defendants to attend all proceedings, and with the Paris hearing slated to run for three weeks, Leahy faces an unprecedented break from a globe-trotting routine that sees him make scores of trips a year chasing deals.
While power of attorney can be granted for lawyers to step in for busy clients during some sessions, Leahy's deputies are likely to face a heightened workload during the criminal trial which begins Oct. 4. The period will also given the Toulouse, France-based company a taste of life without the New Yorker, who turned 65 last month and has served under seven bosses at the jetliner unit since becoming head of global sales in 1995.
"Active managers can be expected to spend in court only the time legally required or strongly recommended by their lawyers," Airbus spokesman Rainer Ohler said by e-mail. "But prior to reading out the accusation it's too early to know exactly how much time that will be."
Leahy's lawyer Patrick Bernard didn't respond to calls seeking comment.
Since Leahy came to Toulouse, Airbus has gone from an 18 percent share of the jetliner market to parity with Boeing, which has run through nine different sales chiefs during his tenure, some pushed out after he beat them to key orders.
French 'Knighthood'
Made an Officer of the Legion d'Honneur in 2012 -- the rough equivalent of an English knighthood -- for services to French and European aviation, Leahy has already worked beyond the age at which most senior Airbus managers have retired.
Six other current or former executives at the company also face insider-trading charges over stock sold in March and April 2006, weeks before the announcement of hitches and program changes on wide-body models that sent its stock tumbling, along with former shareholders Daimler AG and Lagardere SCA.
In addition to Leahy, who is also chief operating officer, two of the accused are still active at Airbus: Alain Flourens, head of A380 production, and ex-chief financial officer Andreas Sperl, who runs a unit that transforms older jets into freighters. The others include Noel Forgeard, a former Airbus chief executive officer.
Lawyers for the defendants are scheduled to meet with the court this month to review schedules and make arrangements for attendance. The case, brought by financial police after the dropping of civil charges by France's AMF stock regulator in 2008, is open to the public, with translators available for Leahy and others for whom French is not a native language.
Rare Insight
The case may offer a rare insight into internal workings at Airbus during a time when it was wrestling with production problems on the 550-seat A380 superjumbo while struggling to come up with a response to Boeing's 787 Dreamliner.
The prosecution will suggest that while Leahy was saying Airbus might counter the all-composite 787 by putting new engines on the older A330 model, he and others knew that a completely new plane was required at a cost of billions.
The court will also be told that executives disposed of shares after becoming aware of a six-month delay to the A380 related to cabling issues which hadn't yet been made public.
Other charges allege that the accused made trades in the knowledge that European Aeronautic, Space & Defence, as Airbus was then known, would fail to meet financial targets.
statistics
Before it's here, it's on the Bloomberg Terminal.
LEARN MORE