Weidmann Said to Oppose ECB Policy Package From Rate Cuts to ABS
Stefan Riecher and Jana Randow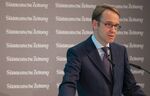 Bundesbank President Jens Weidmann opposed the European Central Bank's policy measures today, according to two euro-region central bank officials.
Weidmann dissented both on the ECB's interest-rate cuts and its purchase program for asset-backed securities, according to the two officials, who asked not to be identified because the discussions are private. A Bundesbank spokesman declined to comment on Weidmann's votes.
ECB President Mario Draghi said that he secured a "comfortable majority" in favor of action, suggesting one or more of the 24-member Governing Council opposed a package of stimulus that followed only three months after his last unprecedented easing plan. The ECB cut its three main interest rates to historic lows today and unveiled a purchase program for asset-backed securities and covered bonds, intended to have a "sizeable" impact on the central bank's balance sheet.
Before it's here, it's on the Bloomberg Terminal.
LEARN MORE