Ukraine Cease-Fire Talks Set as East's Fate Teeters
James G. Neuger, Daryna Krasnolutska and Piotr Skolimowski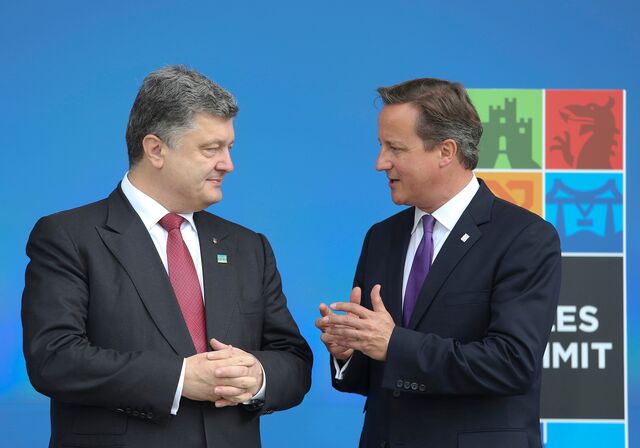 Ukraine's President Petro Poroshenko voiced "careful optimism" that talks today with pro-Russian rebels in Minsk, Belarus, will set the course for a cease-fire after more than five months of fighting.
After Poroshenko met yesterday with leaders of the North Atlantic Treaty Organization, the alliance's Secretary General Anders Fogh Rasmussen said it's too early to tell whether peace overtures by Russian President Vladimir Putin are genuine.
"We have seen similar statements and initiatives, and they have actually just been a smokescreen for continued Russian destabilization of the situation in Ukraine," Rasmussen told reporters at the summit in Newport, Wales. "Based on experience, we have to be cautious."
NATO's summit and European Union moves toward imposing more sanctions on Russia formed the backdrop for the diplomacy to stop the conflict, which has cost at least 2,600 lives and torn up the security arrangements that have governed Europe since the end of the Cold War.
In Brussels today, representatives of the 28 EU governments will consider tightening the economic sanctions that were imposed on Russia in July. Proposals include barring some Russian state-owned defense and energy companies from raising capital in the EU, a U.K. official said.
Putin, who denies that Russia is promoting the rebellion, unveiled a seven-point plan on Sept. 3. It calls for an end to the rebel offensive in eastern Ukraine and the withdrawal of the Ukrainian military from residential areas.
Words, Actions
The self-declared people's republics of Ukraine's easternmost Donetsk and Luhansk regions, the scene of most of the fighting, released statements saying they'll agree to a cease-fire if the Kiev government accepts their plan for a political settlement.
"Whether words are followed by action, tomorrow or in the next few days, we'll have to see," German Chancellor Angela Merkel told reporters at the summit. "I certainly sensed the desire of the Ukrainian president that he's striving for a political solution."
Today's talks in Minsk bring together representatives of Ukraine, the rebels, Russia and the Organization for Security and Cooperation in Europe, which would police any cessation of hostilities.
NATO's supreme military commander, U.S. Air Force General Philip Breedlove, has labeled Putin's offer a ploy to lock down rebel control of chunks of Ukrainian territory in the east and south, close to the border with Russia.
"I don't see a lot of credibility in what Mr. Putin has put on the table," Breedlove said before the NATO summit. "Any cease-fire without closure of the border benefits Russian actions inside Ukraine."
Markets Rally
Russian and Ukrainian markets, battered by the conflict, rallied yesterday on the renewed peace feelers. The Micex Index of 50 shares advanced for a third day, rising 0.6 percent to 1,457.34. The yield on Ukraine's dollar notes due 2017 dropped 72 basis points to a one-week low of 11.82 percent at 6:48 p.m. in Kiev.
While Ukraine isn't a NATO member and doesn't benefit from the alliance's collective security guarantee, Poroshenko used his appearance at the summit to drum up pledges of assistance and demonstrate Ukraine's closeness with the U.S. and Europe.
NATO will set up four trust funds totaling 15 million euros ($19 million) to help finance the modernization of Ukraine's military and care for wounded soldiers. As an alliance, it won't deliver arms to Ukraine, though that doesn't prevent individual allies from doing so.
'Desperate Fight'
Ukraine's military is waging "a desperate fight" with Russian forces and its supplies need to be replenished, Polish President Bronislaw Komorowski said. Poroshenko said he expects "lethal and non-lethal aid" from countries he didn't name. The American focus is on the non-lethal variety, U.S. deputy national security adviser Ben Rhodes told reporters.
Fighting raged in the southeast, with Ukrainian television showing a column of Russian tanks moving toward Mariupol on the Sea of Azov and skirmishes on the outskirts of the city. More than 3,000 Russian troops with tanks are inside Ukraine and the number is growing, Sky News cited NATO officials as saying.
(Corrects dateline to read Sept. 5)
Before it's here, it's on the Bloomberg Terminal.
LEARN MORE