U.K. Stocks High Enough to Hedge as Rally Draws Skeptics
Sofia Horta e Costa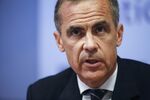 Traders are taking precautions should the rally that pushed the FTSE 100 Index within 0.1 percent of a 14-year high turn out to be temporary.
The U.K. equity gauge has risen 4.7 percent since Aug. 8 as investors speculated the European Central Bank will start a bond-buying program and concern over Ukraine eased. At the same time, the cost of hedging against losses in the FTSE 100 is near a two-year high. When the index reached such levels in 1999, it slumped for three straight years.
Evidence of skepticism is visible in the stocks themselves, with Britain's rally trailing the rest of Europe after hawkish dissenters emerged among Bank of England policy makers. Concern about future interest-rates increases is muting momentum in a market whose 17 percent gain since 2013 briefly pushed the FTSE 100 above closing highs reached in February and May.
"U.K. equities are getting close to iconic levels, because we have been waiting since 1999 to break this level," Alan Higgins, who helps oversee about 28.7 billion pounds ($47.2 billion) as U.K. chief investment officer of Coutts & Co. in London, said by phone. "But the FTSE 100 is actually still lagging most markets. The U.K. is not an overweight for us."
Lagging Behind
The U.K. index has climbed 1.8 percent this year, compared with a 5.1 percent advance for the Stoxx Europe 600 Index. Italy's FTSE MIB Index and Spain's IBEX 35 Index posted some of the biggest jumps among developed markets in 2014, each gaining more than 9.5 percent. France's CAC 40 Index rose 2.9 percent, and Germany's DAX Index added 0.8 percent.
While the BOE kept its key interest rate at a record low of 0.5 percent today, minutes from the policy meeting last month showed two of the central bank's nine policy makers wanted to increase the rate. That contrasts with the ECB, whose President Mario Draghi has signaled he's ready to increase stimulus to fight low inflation.
The BOE cut the benchmark rate to 0.5 percent in March 2009 and kept it there even as the recovery gained enough traction to put the U.K. on track for the fastest economic growth among Group of Seven members this year. Gross domestic product will increase 3.1 percent in 2014, compared with 1 percent for the euro area, economists forecast in a Bloomberg News survey.
Higher Valuations
The stimulus measures have helped send the FTSE 100 up 96 percent since its low in March 2009. The gauge trades at 14.3 times estimated earnings, compared with 15.5 times for the Stoxx 600, data compiled by Bloomberg show.
Profits at FTSE 100 companies tripled from 2008 to 403 pence a share last year. They will rise 19 percent to 481.3 pence in 2014, according to the average analyst estimate compiled by Bloomberg.
U.K. shares can rally further as the conflict between Ukraine and Russia is easing, according to Derek Mitchell of Royal London Asset Management. Russian President Vladimir Putin and his Ukrainian counterpart Petro Poroshenko agreed on steps toward a cease-fire yesterday.
"It's never plain sailing, but the FTSE 100 can grind higher," said Mitchell, who helps oversee about 75 billion pounds from London. "We also already know rates are going up, and everything that the BOE has said suggests it is going to be very slow."
No Rush
Bank of England Governor Mark Carney pledged last month that BOE officials won't rush to raise interest rates, highlighting overseas risks to the U.K.'s recovery and the weakness of wages.
The FTSE 100 Volatility Index, a measure of costs for options on the stocks gauge, rose 20 percent from its nine-year low in July through yesterday. It slid 4.2 percent to 11.15 at 1:30 p.m. in London today.
The U.K. stocks gauge has failed to keep its rallies going this year. It first hit a 14-year high on Feb. 24 before falling to a six-week low in March. It climbed again to its highest level since 1999 in May, and then dropped to an almost four-month low in August.
After reaching its record on Dec. 30, 1999, the index sank 53 percent to an almost eight-year low in March 2003 as the burst of the dot-com bubble spurred a global selloff.
"We're stuck again on this upper limit," Tim Rees, director of U.K. equities at Insight Investment Management Ltd. in London, said in an interview. "It's a ceiling that the market is finding hard to break."
Before it's here, it's on the Bloomberg Terminal.
LEARN MORE